World-renowned violinist visits Concordia to perform, host workshop
Published by Concordia University, Nebraska 3 years ago on Thu, Aug 29, 2019 11:49 AM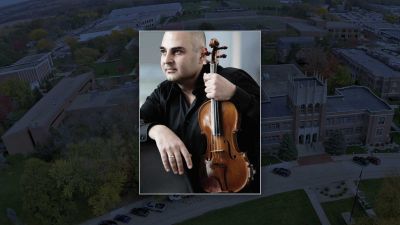 Teimuraz Janikashvili, a world-renowned violinist and conductor, will perform with Dr. Elizabeth Grimpo Sept. 1, before hosting a conducting workshop. Both events will be held in the Music Center's recital hall on campus.
What started as a conversation between neighbors in Spain is bringing a world-renowned violinist and his family to Concordia.
Teimuraz Janikashvili, a concertino soloist of the Symphony Orchestra of Vallés in Spain, will perform Tchaikovsky's Violin Concerto in D Major with Concordia's Dr. Elizabeth Grimpo at the Music Center's recital hall Sept. 1 at 3 p.m., before hosting a conducting presentation at 7 p.m. Both events are free and open to the public.
The concerto is a large-scale, three movement work that is a romantic violin masterpiece, Grimpo said, with a large range of color, emotion and tempos that make it a beautiful, exciting and virtuosic work.
"It's a huge privilege for us to welcome professional musicians beyond our own full-time and adjunct faculty to our campus," Grimpo said. "It's important to build connections and to understand that music has far-reaching effects, not only throughout our community but well beyond."
Janikashvili's neighbors in the Barcelona area of Spain are former Concordia Regent Lyle Middendorf and his wife Nancy. Janikashvili's wife, Patricia, was the Middendorf's realtor when they were looking at vacation homes in May 2017, and the perfect one just happened to be next door. The two families bonded immediately through their shared Christian beliefs and values, Janikashvili said, and have formed a strong friendship.
When Teimuraz and Patricia's oldest daughter, Claudia, was finishing her undergraduate studies, she began searching for an international graduate program. The Middendorfs talked to Claudia and her family about Concordia's MBA program. The idea of living in Lincoln, near the Middendorfs, learning more about their values and faith as well as learning a new culture, were some of the key factors in Claudia's decision, Teimuraz said.
With Claudia selecting Concordia for her MBA studies, the Janikashvili family started making their plans to visit the Middendorfs in Nebraska and to help Claudia get adjusted to Lincoln. Since Teimuraz is a world-renowned concert violinist and teacher, it was only natural to plan a performance and workshop.
"Of course this will be a concert with great meaning for me," Teimuraz said, "being able to play at the university where my daughter starts this important part of her life fills me with pride and satisfaction. I will not deny that, as a father, it makes me sad to leave my daughter here, but Patricia and I feel very grateful to God, the Middendorfs and the university for this opportunity."
Teimuraz's conducting experience includes serving as the soloist director of the National Symphony Orchestra of Colombia and the soloist director of the Symphony Orchestra of Castilla y León in Spain. He has previously been a member of the Kremlin Chamber Orchestra and the Moscow Soloist Chamber Orchestra in Russia before moving to Spain to become a member of the Galician Symphony Orchestra and concertmaster of the Galician Symphony's young orchestra. Teimuraz has also collaborated with numerous orchestras, including the Lisbon Metropolitan Orchestra, Madrid Symphony Orchestra and the San Carlos National Theater.
Until Grimpo and Teimuraz met in person for the first time Aug. 21, they practiced their parts independently, which is a common practice for professional performers, Teimuraz said. When the two were able to finally rehearse in the same room, they were able to compare their notes for the piece.
"We just have to put it together and coordinate our musical interpretations, phrasing, pacing, gestures, nuances and those types of things," Grimpo said. "It's intense, but it's enjoyable work."
The goal of the conducting workshop is to educate both musicians and aspiring conductors, Teimuraz said, because it's important for musicians to understand their conductor's body language and visual cues.
"My educational approach is based on getting students to direct themselves," he said. "And then be able to transmit and direct others from their lectern, without a baton, through their body and visual language, looking for the perfect 'ensemble' understanding."
The ability for Concordia's music program to bring in performers provides motivation for students and gives community members a chance to hear some of their favorite music or in some cases, something new, Grimpo said.
"Sometimes it's simply enjoyable and entertaining, but even more than that, I believe hearing good music is good for the soul," she said. "It's an important thing in this life to make time to enjoy beauty, wherever it may be found."