The World of Jan Brett Exhibit at Marxhausen Gallery for Plum Creek Literacy Festival
Published by Concordia University, Nebraska 4 years ago on Fri, Aug 24, 2018 11:14 AM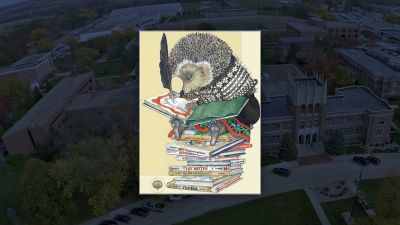 The original art of award-winning children's author Jan Brett is on display at Marxhausen Gallery through Oct. 18, 2018.
Concordia's Marxhausen Gallery of Art will host the exhibit, "The World of Jan Brett" exhibition as part of the Plum Creek Literacy Festival and is currently available for viewing at the Marxhausen Gallery of Art on Concordia's campus through Oct. 18, 2018.
Each year, the Plum Creek Children's Literacy Festival sponsors a traveling exhibit of children's book illustrations in conjunction with the festival. This year, it showcases the original artwork of Jan Brett, one of the most renowned author illustrators of children's books in the country. The exhibit includes over 70 original paintings from her best-selling books that aim to take the viewer on a world tour of the many diverse cultures and locations that Brett draws her inspiration from.
"The spreads featured in the gallery this year invite participants to lean in close and examine and appreciate all of the fine details Jan puts into each illustration," said Dylan Teut, director of the Plum Creek Literacy Festival. "Visitors to the gallery will be amazed at the extraordinary colors, fine details and hidden characters scattered throughout Jan's many illustrations on display."
Some of Brett's publications include "The Mitten," "Hedgie's Surprise," "The Gingerbread Baby," "Trouble with Trolls," and her latest book "The Snowy Nap." This will be the second time she has kicked off one of her national book tours with an appearance at Concordia. Jan Brett will also be holding an artist talk and book signing on Sept. 22 on Concordia's campus.
The Plum Creek Literacy Festival was founded in 1996 and seeks to encourage a love of reading, writing and books by bringing nationally renowned authors and illustrators to Nebraska. This year's event is being held Oct. 4-6, 2018 on Concordia's campus.
Since 2000, the Marxhausen Gallery of Art has hosted over thirty artists and art professionals. Through a diverse mix of exhibitions, performances, screenings, and conversations, the visiting artist program provides a public forum for the presentation and contemplation of contemporary art, curatorial practice and scholarship. Through discourse, studio critiques, informal discussions and public lectures the program provides students with direct access to art professionals working across disciplines.
All exhibits are open and free to the public. The Marxhausen Gallery hours of operation are 11 a.m. to 4 p.m. Monday through Friday and 1 to 4 p.m. on Saturdays and Sundays.