Wizards of Pop Exhibit at Marxhausen Gallery as part of Plum Creek Literacy Festival
Published by Concordia University, Nebraska 5 years ago on Fri, Aug 25, 2017 10:18 AM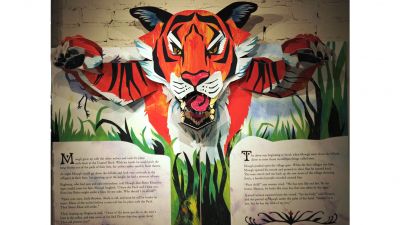 The pop up art of Robert Sabuda and Matthew Reinhart is on display at Marxhausen Gallery through Oct. 6, 2017.
Concordia University, Nebraska's Marxhausen Gallery of Art will host the exhibit, "The Wizards of Pop" exhibition as part of the Plum Creek Literacy Festival and is currently available for viewing at the Marxhausen Gallery of Art on Concordia's campus through Oct. 6, 2017.
This is the only traveling exhibition featuring the art of children's pop-up books. It showcases the works of Robert Sabuda and Matthew Reinhart in a balance of process pieces, initial sketches, concepts pieces, preliminary art, prototypes, dummies, cut-paper collage artwork and nesting sheets.
"The Plum Creek Children's Literacy Festival has been blessed to host illustrator exhibits in the Marxhausen Gallery for the past several years," said Dylan Teut, director of the Plum Creek Literacy Festival. "Every exhibit provides a fresh look at original works of art from children's book illustrations. Attendees always note how the colors and textures really stand out in the original art compared to the reproductions in the books. This year's exhibit is unique in that there are many 3-D pieces for up close viewing."
Renowned for the range and depth of their talents and paper engineering skills, artists Sabuda and Reinhart have created many bestselling books together, as well as separately, some of which are featured in this show. These include "Young Naturalists Pop-Up Handbook: Beetles," "The Wonderful Wizard of Oz," "Peter Pan," "Alice's Adventures in Wonderland," "Star Wars," "Cinderella," and "The Jungle Book."
An official event of the Nebraska Statehood 150th Celebration, the Plum Creek Literacy Festival was founded in 1996 and seeks to encourage a love of reading, writing and books by bringing nationally renowned authors and illustrators to Nebraska. This year's event is being held Sept. 28-30, 2017 on Concordia's campus.
Since 2000, the Marxhausen Gallery of Art has hosted over thirty artists and art's professionals. Through a diverse mix of exhibitions, performances, screenings, and conversations, the visiting artist program provides a public forum for the presentation and contemplation of contemporary art, curatorial practice and scholarship. Through discourse, studio critiques, informal discussions and public lectures the program provides students with direct access to arts professionals working across disciplines.
All exhibits are open and free to the public. The Marxhausen Gallery hours of operation are 11 a.m. to 4 p.m. Monday through Friday and 1 to 3 p.m. on Saturdays and Sundays.