Winter Jazzfest and handbell performances ring in the season
Published by Concordia University, Nebraska 4 years ago on Wed, Nov 28, 2018 4:01 PM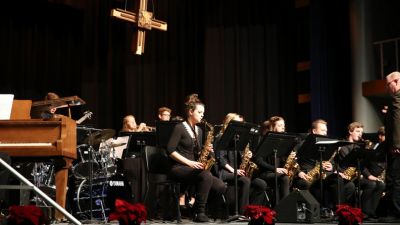 Concordia University, Nebraska's Jazz Ensemble will perform in a concert at 7 p.m. on Friday, Dec. 7 at Hillcrest Evangelical Free Church in Seward.
Concordia's Winter Jazzfest will take place at 7 p.m. on Friday, Dec. 7 at Hillcrest Evangelical Free Church in Seward.
The Concordia Jazz Band will perform "At First Light" arranged by Ellen Rowe and "Katy" by Sammy Nestico, along with pieces by Benny Goodman and the Glenn Miller Orchestra, to name a few. The Vocal Jazz Choir will also be performing a few pieces, including Anders Edenroth's brand new chart, "Since You've Been Gone" and "The Song of Purple Summer" by Steven Sater and Duncan Sheik.
The Concordia Handbell Choir and Handbell Choir II will perform at 3 p.m. on Saturday, Dec. 8 in the Music Center's Recital Hall on Concordia's campus.
The handbell choirs will perform Christmas pieces including "Good Christian Men Rejoice," "Ding, Dong, Merrily on High," "What Child is This?" and "O Come, O Come Emmanuel." Concordia Handbell Choir's CD, "Faithful," will also be available for purchase at the concert.
Additionally, the Concordia Handbell Choir will be participating in the Nebraska State Capitol's 70th Annual Tree Lighting at 1:30 p.m. on Sunday, Dec. 9. The ceremony will be broadcast statewide on the radio. Tune in to KFOR FM 103.3 or 1240 AM to hear the ringers perform a few of their holiday pieces.
"Concordia Handbell Choir is excited to be part of the State Capitol Tree Lighting this year," said Jessica Kite, director of handbell choirs. "We look forward to sharing our Christmas handbell music with those in attendance and as it is broadcast over KFOR radio. This is a wonderful opportunity for us to represent Concordia University and familiarize new people with our excellent music program! We cannot wait to hear the sound of the handbells ringing in the Capitol Rotunda!"
Members of the Vocal Jazz Choir include (in alphabetical order by state, city, last name):
Jacob Roggow, senior, Cottage Hills, Ill., bass
Alex Kaldahl, junior, Spencer, Iowa, bass
Austin Theriot, senior, Lake Charles, La., bass
Zachary Mueller, freshman, Frankenmuth, Mich., tenor
Sarah Mueller, senior, Hemlock, Mich., alto
Brooke Ann Duerr, freshman, Warren, Mich., alto
Vanessa Marsh, senior, Concordia, Mo., soprano
Megan Kroeker, sophomore, Henderson, Neb., soprano
Nicholle Harstad, freshman, Norfolk, Neb., alto
Shanda Fujan, sophomore, Oakland, Neb., soprano
Avery Kesar, sophomore, Omaha, Neb., bass
Christian Watters, sophomore, Panama, Neb., tenor
Noah Freeman, sophomore, Bend, Ore., tenor
Members of the Jazz Ensemble include:
David Krueger, senior, Aurora, Colo., tenor saxophone
Daniel Hakes, senior, Erie, Colo., trombone
Gabriel Jofre, junior, Sterling, Colo., alto saxophone
Matthew Goltl, junior, Wichita, Kan., percussion
Jonathan Grant, senior, Waterloo, Ill., trumpet
Bethany Zeckzer, freshman, New Haven, Ind., bari saxophone
Joshua Smith, junior, Earlham, Iowa, piano
Zachary Mueller, freshman, Frankenmuth, Mich., trombone and bass
Sarah Armbrust, freshman, Ballwin, Mo., percussion
Jacob Mikkelson, junior, Bellevue, Neb., bass
Caleb Staehr, senior, Grand Island, Neb., tenor saxophone
Lukas Sollberger, sophomore, Louisville, Neb., trumpet
Thomas Johnson, senior, Omaha, Neb., alto saxophone
Rose Nigh, freshman, Omaha, Neb., tenor saxophone
Lydia Jeppesen, senior, Pleasant Dale, Neb., trumpet
Dalton Berry, sophomore, Seward, Neb., trumpet
Nolan Homp, sophomore, Seward, Neb., trombone
Shiloh Richters, sophomore, Utica, Neb., trumpet
Sarah Benz, sophomore, Campbellsport, Wis., alto saxophone
John Metzger, sophomore, Grand Island, Neb., trombone
Members of the Concordia Handbell Choir and Handbell Choir II include:
Sophie Thorsen, senior, Huntsville, Ala., Handbell Choir II
Breann Huber, junior, Arvada, Colo., Handbell Choir
Erin Johnson, sophomore, Brighton, Colo., Handbell Choir II
Joanna Sherrill, freshman, Lakewood, Colo., Handbell Choir II
Kylee Taylor, freshman, Westminster, Colo., Handbell Choir II
Jacob Roggow, senior, Cottage Hills, Ill., Handbell Choir
Bethany Zeckzer, freshman, New Haven, Ind., Handbell Choir II
Whitney Pottschmidt, junior, Seymour, Ind., Handbell Choir
Elizabeth Frakes, senior, Wichita, Kan., Handbell Choir
Hannah Davis, senior, Coon Rapids, Minn., Handbell Choir
Charlotte Lines, sophomore, Marshall, Mo., Handbell Choir II
Linnea Buchholz, sophomore, St. Charles, Mo., Handbell Choir II
Emily Thies, sophomore, St. Louis, Mo., Handbell Choir II
Allison Mackie, senior, Columbus, Neb., Handbell Choir
Nathan Klaumann, senior, Fairbury, Neb., Handbell Choir
Elizabeth Bergdolt, sophomore, Grand Island, Neb., Handbell Choir
Caleb Staehr, senior, Grand Island, Neb., Handbell Choir
Zachary Staehr, sophomore, Grand Island, Neb., Handbell Choir II
Jonathan Rippe, senior, Gretna, Neb., Handbell Choir
Emily Wiese, freshman, Holdrege, Neb., Handbell Choir II
Aaron Ferguson, junior, Hyannis, Neb., Handbell Choir II
Stephanie Barry, junior, Omaha, Neb., Handbell Choir
Lydia Jeppesen, senior, Pleasant Dale, Neb., Handbell Choir II
Timothy Rasch, senior, Denton, Texas, Handbell Choir II
Rachel Dorn, senior, Houston, Texas, Handbell Choir
Cristina Sanchez, sophomore, La Grange, Texas, Handbell Choir II
Aaron Jackson, sophomore, Palestine, Texas, Handbell Choir
Victoria Cameron, junior, Kent, Wash., Handbell Choir