"What the Void Can Hold" on display in Marxhausen Gallery
Published by Concordia University, Nebraska 9 years ago on Tue, Nov 5, 2013 10:19 AM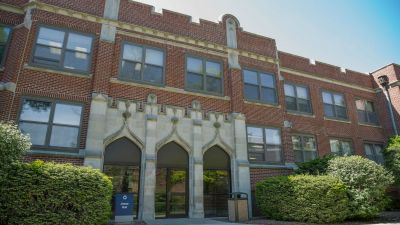 "What the Void Can Hold," an art exhibition in Concordia's Marxhausen Gallery, opened Nov. 3. An opening reception for the exhibition was held Nov. 10, with a gallery talk by Alex Priest in the Thom Leadership Education Center auditorium. Priest was guest curator of the show and serves as the exhibition assistant at the Bemis Center for Contemporary Art in Omaha, Neb. The exhibit ran through Dec. 18.
"What the Void Can Hold" was designed by Priest from works found in Concordia's permanent collection of more than 300 pieces of paper media art.
"As the collection continues to expand, so does the need to revisit the holdings from new perspectives," James Bockelman, professor of art and director of the Marxhausen Gallery, said. "Inviting curators to work with the collection expands the scope of the Marxhausen Gallery by forging new relationships with art professionals from various institutions that share the common value for making art an integral aspect of any community."
The collection contains serigraphs, etchings, lithographs and other original prints by nationally and internationally recognized artists from the last century Bockelman said.
"We are grateful for the unique perspectives that Mr. Alex Priest brings to his exhibition," Bockelman said, noting that the "void" can be frightening because it is nearly empty or exciting because of its limitless potential to be filled.
Featured artists included Karel Appel, Josef Albers, John Baldessari, Thomas Hart Benton, Charles Burchfield, John Stuart Curry, Stuart Davis, Richard Diebenkorn, Lucio Fontana, Joe Goode, Adolph Gottlieb, William Gropper, David Hockney, Ellsworth Kelly, Jacob Landau, Roy Lichtenstein, Richard Long, Michael Mazur, Peter Milton, Louise Nevelson, Philip Pearlstein, Martin Puryear, Robert Rauschenberg, David Salle, Richard Serra, Terry Winters and Grant Wood.
The Marxhausen Gallery is the on-campus exhibition space for Concordia and hosts a variety of exhibitions each year. It is located in Jesse Hall and is open Monday – Friday from 11 a.m. to 4 p.m. and Saturday and Sunday from 1 to 4 p.m.