Volunteers steer campaign success
Published by Concordia University, Nebraska 11 months ago on Tue, Aug 24, 2021 11:05 AM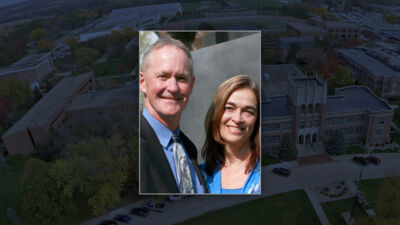 Dr. Doug '83 and Denise Tewes, Answering The Call campaign co-chairs.
By Scott Seevers
Senior Director of Development and Engagement
Nearly two months after the completion of Concordia's five-year Answering The Call fundraising campaign, it's still difficult for many to read the results without raised eyebrows and exclamations of "That's amazing!" The campaign ultimately raised an unprecedented $93 million for Concordia.
First giving thanks to God for the bountiful blessings of the campaign, Concordia also acknowledges the impact of 10 leaders who faithfully served as members of the Answering The Call Steering Committee. By all accounts, it was a special group.
"We could not have asked for a more enthusiastic and committed group of people," said Kurth Brashear, vice president for institutional advancement. "I thank God for each of them."
Results of the campaign certainly support the argument that this committee served with excellence. How did Brashear assemble this winning team and what was the secret to its success?
"They are all volunteers, invited to serve because they love Concordia and they demonstrated longstanding support of the institution," he said.
Furthermore, each member of the committee exhibited a passion for one or more of the components of the campaign such as church work or science, math and business initiatives.
"They embraced the project with enthusiasm," said Brashear.
Doug '83 and Denise Tewes served as chairs of the committee. Along with fellow committee members, they made a personal financial commitment to the campaign, encouraged others to consider participating and helped plan and execute various initiatives. This included personal contacts to ensure that every donor to Answering The Call received thanks in the form of a letter, note, or personal call from a member of the Steering Committee. Other members, a mix of Concordia alumni, alumni parents and friends, included John and Cindy Dinkel, Bill Kernen, Lyle Middendorf, Paul Schudel, Ruth Probasco—all Nebraskans--and Vern and Ruth Harnapp, who participated from Florida.
Serving on the Steering Committee had its rewards, too, including a front-row seat to the progress of the campaign as goal after goal was met and then exceeded. Doug and Denise Tewes noted, "God's plans are bigger than ours and He showed that in this campaign which morphed from a goal of $65 million to a final result of $93 million. Wow, God!"
As Vern Harnapp '58 reflected on his time on the committee, he drew great satisfaction from the campaign's lasting positive effect on Concordia's students.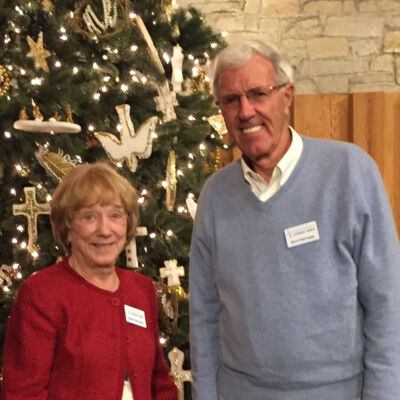 "The most important impact on Concordia was uniting thousands of alumni and supporters in joining in a massive effort to bring their monetary support," he said, "moving Concordia ahead in building the Dunklau Center and the new music center."
Harnapp found the experience personally rewarding as well.
"I cherish the new relationships I acquired with committee members, something which would not have been realized had we not worked together," he said. "Being located so far away in Florida, I came to appreciate the strength of all you supporters in the great state of Nebraska!"