Visiting artists share experiences
Published by Concordia University, Nebraska 10 years ago on Fri, Feb 24, 2012 12:31 PM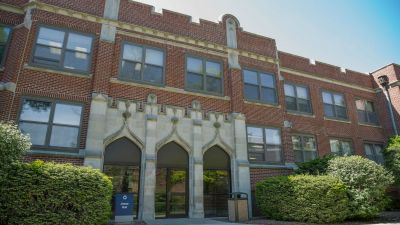 The art department at Concordia hosted two visiting artists on March 1 & 2. Artists David and Teresa Harris spoke on their experiences as artists.
"It's important for students to learn from the experiences of working artists. Our visiting artists are honest about the highs and lows inherent to a career as an artist and that if they persevere they can enjoy the life of an artist and the successes that come through discipline and hard work," said Don Robson, associate professor of art at Concordia.
David Harris is an assistant professor of art at Missouri Western State University and a studio potter who produces both functional and decorative pottery. In his career, he has designed and constructed several kilns for business and professional use. Harris earned his master's in ceramics at Fort Hays State University, Hays, Kan., and his bachelor's at Missouri Western State College, Saint Joseph, Mo. His work has been exhibited in many venues, including the Omaha North Hills Pottery Tour in 2011.
Teresa Harris is a mixed-media artist. She is currently associate professor of art, teaching graphic design and typography, at Missouri Western State University. She received her bachelor's in art from Missouri Western State University and her Master of Fine Arts Degree from Fort Hays State University in Hays, Kansas. Harris's work has been exhibited in many juried national and international competitions, solo exhibitions and invitational exhibits.