University Symphonic Band and Wind Ensemble to perform fall concert
Published by Concordia University, Nebraska 1 year ago on Fri, Oct 11, 2019 12:00 PM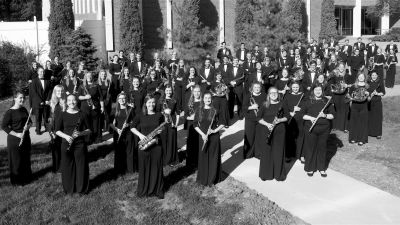 The University Symphonic Band and Wind Ensemble of Concordia University, Nebraska, will perform its fall concert Tuesday, Oct. 22, at 7 p.m., in the Cattle Conference Room, located in the Janzow Campus Center on Concordia's campus. The concert is free and open to the public.
"This concert features a broad spectrum of music written and arranged for concert bands and will hopefully be an enjoyable evening for audience members and performers alike," said Dr. Andrew Schultz, conductor of the Symphonic Band.
The Symphonic Band will perform "Chorale and Alleluia" by Howard Hanson, "Vesuvius" by Frank Ticheli, "Battle Hymn of the Republic" arranged by Peter J. Wilhousky and "The High School Cadets March" by John Philip Sousa. The Wind Ensemble will perform "Rushmore" by Alfred Reed, "Watermelon Club" by Jen Bodewalt Lampe and "The Boys of Wexford March" by Sammy Nestico.
As Concordia University's principal concert band, the University Symphonic Band is deeply rooted in the 100-year history of instrumental musical ensembles at Concordia. The 80-member Symphonic Band has gained a reputation for engaging and entertaining performances of outstanding sacred and traditional concert band literature. The University Wind Ensemble, a 40-member concert band selected by auditions from the Symphonic Band, is an extension of the band program as the touring concert band that Concordia University on tours throughout the United States.
"Concordia's first dedicated music professor, Karl Hasse, organized the first instrumental music ensemble in 1906 and the Symphonic Band and Wind Ensemble continues to build on the legacy and tradition of excellence in instrumental music at Concordia University, Nebraska," said Schultz. "Among the instrumental conductors following Hasse were Henry Hardt, Paul Rosel, Charles Krutz, Arthur Fliege, Timothy Nord, James Koerschen, Greg Olsen and William Kuhn."
Members of the 2019–20 University Symphonic Band (listed by home state, home city and then last name in alphabetical order):
Nebraska
Olivia Leising, freshman, Arapahoe, Neb., clarinet
Evan Hammang, freshman, Arlington, Neb., percussion
Danae Welling, senior, Ashland, Neb., tuba
Rebekah Henschen, sophomore, Bancroft, Neb., trombone
Ethan Mayes, freshman, Beemer, Neb., trombone
Jacob Mikkelson, senior, Bellevue, Neb., horn
Jonathan Deardoff, senior, Bennington, Neb., percussion
Julia Witt, freshman, Columbus, Neb., bass clarinet
Jayson Klaumann, freshman, Fairbury, Neb., percussion
Autumn Johnson, sophomore, Fremont, Neb., alto sax
Elizabeth Bergdolt, junior, Grand Island, Neb., horn
Abigail Huggins, junior, Grand Island, Neb., clarinet
Zachary Staehr, junior, Grand Island, Neb., trombone
Trenton Bruntz, sophomore, Hastings, Neb., trumpet
Chris Warneke, senior, Hastings, Neb., alto sax
Megan Kroeker, junior, Henderson, Neb., flute
Hannah Birtell, junior, Holdrege, Neb., horn
Nathan Birtell, freshman, Holdrege, Neb., tenor sax
Lydia Grimpo, freshman, Lincoln, Neb., oboe
Rebekah Guilford, sophomore, Lincoln, Neb., trumpet
Tyler Scholz, freshman, Lincoln, Neb., trombone
Lukas Sollberger, junior, Louisville, Neb., trumpet
Amelia Schlichting, Lyons, Neb., clarinet
Dylan Cookus, sophomore, Milford, Neb., percussion
Caleb Hazzard, freshman, Minden, Neb., horn
Emma Baumann, freshman, Norfolk, Neb., horn
Morgan Herrera, sophomore, Omaha, Neb., percussion
Thomas Johnson, senior, Omaha, Neb., clarinet
Avery Kesar, junior, Omaha, Neb., trumpet
Rose Nigh, sophomore, Omaha, Neb., tenor sax
Richele Masin, freshman, Ord, Neb., trumpet
Abigail Jeppesen, junior, Pleasant Dale, Neb., clarinet
Josh Hendrickson, senior, Seward, Neb., euphonium
Elisha Meyer, freshman, Seward, Neb., trumpet
Brittan Taylor, junior, Seward, Neb., percussion
Shelby Todd, sophomore, Staplehurst, Neb., clarinet
Sara Kettelhake, junior, Tecumseh, Neb., alto sax
Rebecca Hoffschneider, junior, Utica, Neb., flute
Shiloh Richters, junior, Utica, Neb., trumpet
Tabitha Ristvedt, sophomore, Utica, Neb., alto sax
Keziah Bruns, junior, Waco, Neb., horn
Elizabeth Gierke, sophomore, Waverly, Neb., flute
California
Ben Toenjes, freshman, Bakersfield, Calif., tuba
Colorado
Esther Langness, freshman, Englewood, Colo., flute
Gabe Jofre, senior, Sterling, Colo., alto sax
Idaho
Marlee Hubach, freshman, Caldwell, Idaho, bassoon
Illinois
Samuel Smith, senior, Broadlands, Ill., tuba
Amanda Munzert, freshman, Edwardsville, Ill., flute
Hayden Rensner, junior, Effingham, Ill., trumpet
Indiana
Bethany Zeckzer, sophomore, New Haven, Ind., baritone sax
Whitney Pottschmidt, senior, Seymour, Ind., oboe
Kansas
Jennifer Horne, freshman, Canton, Kan., horn
Jenna Fredrickson, junior, Concordia, Kan., trumpet
Valery Rostek, senior, Norton, Kan., tenor sax
Matthew Goltl, senior, Witchita, Kan., percussion
Iowa
Sarah Weber, freshman, Manchester, Iowa, trombone
Maryland
Rachel Smithley, junior, Waldorf, Md., trumpet
Minnesota
Hannah Watt, junior, Fairmont, Minn., bass clarinet
Parker Esterberg, senior, Independence, Minn., percussion
Lauren Holmlund, sophomore, Maple Grove, Minn., flute
Joshua Marlatt, sophomore, Mound, Minn., trumpet
Brandon Holmes, senior, Waconia, Minn., trumpet
Sierra Geistfeld, freshman, Saint James, Minn., trumpet
Missouri
Sarah Armbrust, sophomore, Ballwin, Mo., percussion
Faith Brown, freshman, Concordia, Mo., flute
Leigha Meyer, freshman, Fenton, Mo., flute
Sonja Brandt, senior, Knob Noster, Mo., clarinet
Montana
Malia Ebel, junior, Billings, Mont., clarinet
North Dakota
Dane Wolfgram, sophomore, Bismark, N.D., percussion
South Dakota
Jessica Berg, junior, Brandon, S.D., horn
Erik Fuerniss, sophomore, Delmont, S.D., trombone
Hannah Wiedebush, sophomore, Mansfield, S.D., trumpet
Karissa Ternus, sophomore, Valley Springs, S.D., trombone
Texas
Hannah Eatherton, sophomore, Garland, Texas, trumpet
Rebekah Eatherton, sophomore, Garland, Texas, flute
Rebecca Yox, freshman, Mount Pleasant, Texas, flute
Wisconsin
Sarah Benz, junior, Campbellsport, Wis., alto sax
Aaron Huesmann, senior, Jackson, Wis., euphonium