University Concert Band plans 2022 Spring Tour
Published by Brooke Lange 1 year ago on Fri, Mar 25, 2022 1:51 PM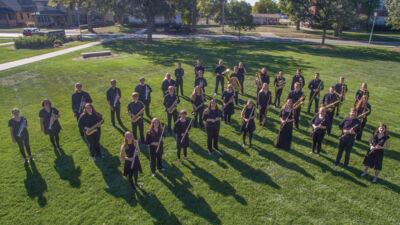 Concordia's University, Nebraska's Concert Band will travel to Nebraska, South Dakota, Minnesota and Iowa for their concert band tour April 7-11.
Sites for the band's performances include Lutheran High Northeast, Norfolk, Nebraska; Sioux Falls Lutheran School, Sioux Falls, South Dakota; Mayer Lutheran High School, Mayer, Minnesota; Trinity Lutheran Church, Waconia, Minnesota; Concordia Academy, Roseville, Minnesota; and St. Paul Lutheran Church, Fort Dodge, Iowa.
"As Concordia University's premiere instrumental ensemble, the University Concert Band is deeply rooted in the more than 100-year history of instrumental musical ensembles at Concordia. Concordia's first dedicated music professor, Karl Hasse, organized the first instrumental music ensemble in 1906, and the University Concert Band continues to build on the legacy and tradition of excellence in instrumental music at Concordia. The Concert Band keeps an active performance schedule both on and off campus, having performed concerts in more than 20 states in the past 20 years. Most recently, the ensemble toured to Alabama, Indiana, Texas, the Pacific Northwest, Florida, Illinois, and Iowa. In addition to the ensemble's music being featured on broadcasts of The Lutheran Hour, the Concert Band has released two CD recordings: In the Spring and Winds from the Prairie."
Director Kurt Von Kampen earned a bachelor's degree in music from Concordia University, Nebraska, a master's degree in choral conducting from Oakland University, and a doctorate in choral music education from the University of Nebraska.
Admission to the concerts is free. Free-will offerings will be taken at evening concerts to help defray tour expenses.
Tour Schedule
Thursday, April 7, 2022
10:00 AM School Assembly at Lutheran High School Northeast
2010 N 37th St.
Norfolk, NE 68701

7:00 PM Concert at Sioux Falls Lutheran School
6715 South Boe Lane,
Sioux Falls, SD 57108
Friday April 8, 2022
7:00 PM Concert at Mayer Lutheran High School
306 7th St. NE
Mayer, MN 55360
Saturday April 9, 2022
2:00 PM Concert at Trinity Lutheran Church
601 E 2nd St
Waconia, MN 55387
Sunday April 10, 2022
8:15 AM Worship at Trinity Lutheran Church
7:00 PM Concert at Concordia Academy
2400 Dale St. N
Roseville, MN 55113

Monday April 11, 2022
2:00 PM Concert at St. Paul Lutheran Church
400 S 13th St.
Fort Dodge, IA 50501
Members of the University Concert Band (listed in program order) include:

Flute
Rebekah Eatherton, Sheboygan, Wis.
Elise Leapley, Waukesha, Wis.
Kalie Dalen, Dallas Center, Iowa
Amanda Munzert, Edwardsville, Ill.
Psalm Richters, Utica, Neb.
Emilee Price, Columbus, Neb.
Clarinet
Caleb Zeckzer, New Haven, Ind.
Isabella Schmid, Rockford, Ill.
Katheryn Rice, Bellevue, Neb.
Kendra Johnson, Council Bluffs, Iowa

Bass Clarinet
Julia Witt, Columbus, Neb.
Olivia Leising, Arapahoe, Neb.

Alto Saxophone
Bethany Zeckzer, New Haven, Ind.
Isaac Weander, Norfolk, Neb.

Bass Tenor Saxophone
Nathan Birtell, Holdrege, Neb.
Maria Burris, Crawford, Colo.

Baritone Saxophone
Logan Walgate, St. Charles, Mo.
Trumpet
Hannah Eatherton, Sheboygan, Wis.
Rebekah Guilford, Lincoln, Neb.
Joshua Marlatt, Minnetrista, Minn.
Samuel Dunbar, Utica, Neb.
Madison Owen, Arcadia, Iowa
Madeline Peters, Sioux Falls, S.D.
Matthew Feusse, Clearwater, Neb.
Horn
Calvin Rohde, Reed City, Mich.
Alannah Stahl, Saginaw, Mich.

Trombone
Sarah Weber, Manchester, Iowa
Jackson Munter, Ithaca, Neb.
Nate Demlow, Mendota Heights, Minn.
Tyler Scholz, Lincoln, Neb.
Colin Thuringer, Sioux Falls, S.D.
Euphonium
Daniel Oberdieck, Lanesville, Ind.

Tuba
Benjamin Toenjes, Bakersfield, Calif.
Percussion
Morgan Herrera, Omaha, Neb.
Jayson Klaumann, Fairbury, Neb.
Sarah Armbrust, St. Louis, Mo.
Dylan Cookus, Milford, Neb.
Garrett Erickson, Seward, Neb.