Twenty-four hours of laughs at Concordia
Published by Concordia University, Nebraska 10 years ago on Tue, Apr 19, 2011 1:08 PM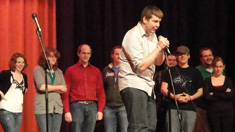 Come and laugh the night away as Concordia University, Nebraska's improvisational comedy troupe, the IMPROVables, kicks off its second annual IMPROVathon, with performances at 7:30 p.m. and 9 p.m. on Friday, April 29. The laughs won't stop, however. After the two scheduled performances, members of the group will do improv nonstop for 24 hours, raising money for charity. The event will be held in the top level of the Janzow Campus Center. The public is invited to attend.
"Last year we raised $400 to send to Haiti for disaster relief," said junior Bryce Tellmann, one of the group's leaders. "We first tried the IMPROVathon as a grand experiment, and it was wildly successful, so we'd like to make a habit of it. This performance also gives the opportunity for all of our IMPROVable members to take the stage. Everyone needs to help out to keep a show going for 24 hours."
Throughout the 24 hours, the IMPROVables will accept freewill donations for Global Giving Japan Earthquake and Tsunami Relief Fund.
Spectators shouldn't expect to sit still. Audience participation is required at these shows, whether that means shouting out ideas or getting up on stage.
"We involve the audience in improv so that they feel more attached to what the performers are creating," said another of the leaders, junior Phil Kober. It is also adds to the suspense when audiences fuel the fun. "It is more exciting to see your ideas come to life as an audience member than to simply have the performers on stage make all the scenarios."
Members of Concordia's IMPROVables:
Mary Aitken, Sophomore, Denver, Colo.
Brittany Becker, Sophomore, St. Peters, Mo.
Nathaniel Bellin, Senior, Racine, Wis.
Joe Beran, Sophomore, Lincoln, Neb.
Katie Bergt, Sophomore, Fairmont, Minn.
Kyla Clark, Junior, Columbus, Neb.
Josh Duncan, Junior, Hickman, Neb.
Kristin Easler, Junior, Fredericks, Va.
Heather Eden, Junior, Boise, Idaho
Ryan Fiero, Sophomore, Austin, Texas
Sarah Heins, Freshman, Higginsville, Mo.
Micah Hollenbech, Sophomore, Wheat Ridge, Colo.
Bryan Hulsey, Sophomore, St. Peters, Mo.
Ethan Hutton, Sophomore, Muskegon, Mich.
Natalie Kesar, Freshman, Omaha, Neb.
Phil Kober, Junior, Collinsville, Ill.
Mary Kois, Junior, Omaha, Neb.
Jon Laufer, Senior, Renault, Ill.
Henning Peterson IV, Junior, Parker, Colo.
Tim Rehbein, Sophomore, Omaha, Neb.
Andrew Rogers, Senior, Tacoma, Wash.
Paul Schmidt, Sophomore, Alta, Iowa
Amanda Schroeder, Sophomore, Stevens Point, Wis.
Jordan Schultz, Sophomore, Beemer, Neb.
Sara Schultz, Senior, Wamego, Kan.
Andrew Schwartz, Sophomore, Greeley, Colo.
Caitlynn Schwehn, Sophomore, Grand Island, Neb.
Cayde Sprecker, Sophomore, Woodbine, Iowa
Justin Tayon, Sophomore, Belleville, Ill.
Bryce Tellmann, Junior, New Salem, N.D.
Rory Wendelin, Junior, Oberlin, Kan.