Twelve Concordia University students take part in Costa Rica study tour
Published by Concordia University, Nebraska 5 years ago on Thu, Mar 16, 2017 12:08 PM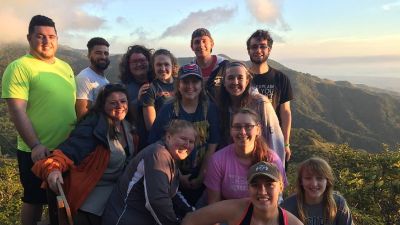 Twelve Concordia students traveled to Costa Rica for a study tour in March 2017. Back Row (l to r): Austin Taylor, Bryce Collins, Shannon O'Brien, Becky Freeman, Robbie Peterson, Josiah Rensner. Middle Row (l to r): Professor Jennifer Fruend, Lauren Loop, Kaitlyn Sims. Front Row (l to r): Allison Wiebe, Jazzy Eickhoff, Jerrica Tietz, Jensen Anderson.
Twelve students and two faculty members from Concordia University, Nebraska participated in a study tour to Costa Rica March 3–12, 2017, led by assistant biology professor, Jennifer Fruend, and Kelley Limback, education partnership coordinator for the College of Graduate Studies and Adult Education.
"When the world is our classroom, science can truly take shape and be a global endeavor," said Fruend. "When we understand the world is bigger than our own life, we understand how our decisions in life impact other people, ways of life, ecosystems and organisms. Nothing teaches these critical life lessons better than global travel and content application. To God be the glory of all heaven and earthly beauty!"
The participants began the study tour by visiting La Paz Waterfall Garden and Poas Volcano where they briefly immersed in tropical cloud forests. The group then ventured to La Selva Biological Research Station where students saw sloths, tropical birds, spider monkeys and snakes, including the rare eyelash viper.
The next stop was Palo Verde National Park where students met a ctenosaur and iguana researcher and a crocodile researcher. Here, students were able to see a rare and elusive ocelot, a boa constrictor and crocodiles. The final venture was an immersion into the Cloud Forest at Monteverde and the University of Georgia Costa Rica campus. Here, students were able to hike on suspension bridges through the canopy or zip line through the rain forest.
Outside of ecology, the group interacted with bird watchers from around the world and Costa Ricans in grocery stores and at the beach. Students observed first-hand their kind and laid-back approach to life – a lifestyle easily summed up by the nationally celebrated phrase, "Pura Vida!"
Students participating in the trip include:
Kaitlyn Sims, freshman, Winter Springs, Fla.
Robbie Peterson, freshman, Ord, Neb.
Jerrica Tietz, sophomore, Bancroft, Neb.
Lauren Loop, sophomore, Columbus, Neb.
Shannon O'Brien, sophomore, Winona, Minn.
Jensen Anderson, freshman, Beaver Crossing, Neb.
Josiah Rensner, sophomore, Effingham, Ill.
Allison Wiebe, senior, Malcolm, Neb.
Jazzy Eickhoff, sophomore, Sterling, Neb.
Bryce Collins, senior, Boerne, Texas
Austin Taylor, senior, York, Neb.
Becky Freeman, freshman, Harrisonville, Mo.