Three Concordia students receive honors at SHAPE Nebraska conference
Published by Concordia University, Nebraska 7 years ago on Mon, Nov 9, 2015 11:03 AM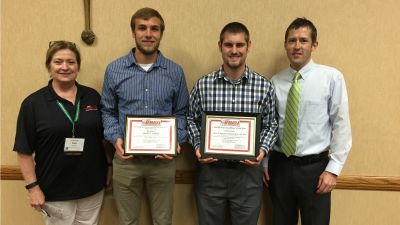 Three Concordia students were honored at the SHAPE Nebraska awards luncheon Nov. 3, 2015, for their work as students in exercise science and health and physical education. Pictured (l-r): Assistant Professor of Health and Human Performance Patti Jensen, Jacob Kettner, Adam Meirose and Assistant Professor of Health and Human Performance Nolan Harms; not pictured: Creighton Pearse
Three students from Concordia University, Nebraska received College Student of the Year awards at the Society of Health and Physical Educators (SHAPE Nebraska) awards luncheon in Kearney, Nebraska, on Nov. 3, 2015.
The recipients of the awards were as follows:
Jacob Kettner, senior, Salem, Mo., exercise science
Creighton Pearse, Kearney, Neb., health and physical education
Adam Meirose, senior, Lincoln, Neb., exercise science
Meirose and Pearse were recognized as the overall Student of the Year for Nebraska in exercise science and health education, respectively.
"We are very proud of these young men," said Nolan Harms, assistant professor and chair of the health and human performance department at Concordia. "Their professionalism and pursuit of academic excellence is inspiring. What really makes this a defining moment for our students and Concordia is the fact that two of these individuals were selected as the overall Students of the Year for Nebraska. That is pretty special!"
Pearse was unable to be present at the conference due to his student teaching in Missouri.