Three Concordia Alumni earn LCMS Nebraska District Awards for education and church work
Published by Concordia University, Nebraska 2 years ago on Fri, Nov 16, 2018 4:09 PM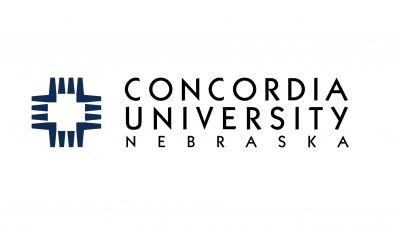 Recently, three Concordia University, Nebraska alumni were honored with outstanding educator awards by the Nebraska District Lutheran Church—Missouri Synod (LCMS) for their faithful service in Lutheran education and ministry.
"We are so proud of these alumni and the way they have dedicated their time, talent and resources to change the lives of others," said Jennifer Furr, director of alumni and university relations at Concordia. "The contributions of these individuals in their communities truly illuminate the values and mission of our great university of serving the church and world."
The awards, given by the Nebraska District, honors Lutheran educators each year who are nominated for their outstanding service to Lutheran churches and schools. To be eligible, candidates must be actively serving as a full-time employee of an LCMS organization.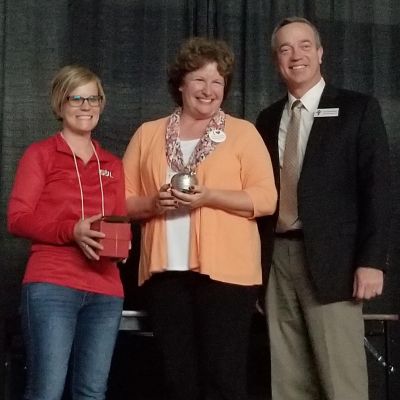 Rebecca Fisher '85 – Nebraska District Parish Worker of the Year
Rebecca Fisher, director of family ministry at Christ Lutheran in Lincoln, Nebraska, was selected to receive the Nebraska District Parish Worker of the Year.
At Christ Lutheran, Rebecca oversees early childhood and middle and high school ministry. One of the nomination said about Rebecca, "She has a love for Christ and carries out the mission of Christ in a professional, caring and loving manner. She loves family ministry and is protective of her staff and families involved in the ministry. Rebecca works diligently to strive for excellence in managing a wonderful team that shares her vision for future family ministry growth, development and success."
Rebecca has been involved in education at various Concordia University system campuses over the years, where she continues to teach students via online education. She is also involved as a mentor and caregiver with children who are at risk, as well as leading many volunteers at the Matt Talbot Soup Kitchen.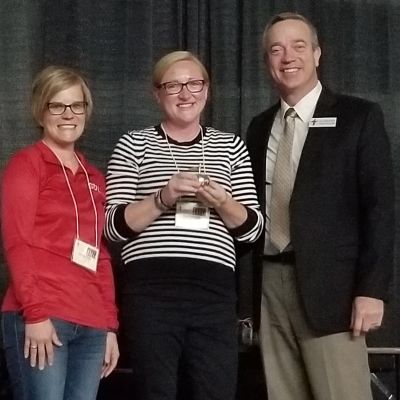 Kari Penrose '00 – Nebraska District Administrator of the Year
Kari Penrose, principal at St. Paul Lutheran School in West Point, Nebraska, was selected to receive the Nebraska District Administrator of the Year award.
Kari is "the core of our school," said one nomination. "She is supportive of what we as educators do, she challenges us to excel and loves us through the bumps in the road. She is a good listener and most of all loves God with all her heart."
Another nomination said, "Kari has a God-given talent for speaking in a calm, kind way to parents, students and staff even in the most difficult situations. She has great ideas to improve our school every year. She goes above and beyond her duties as a principal."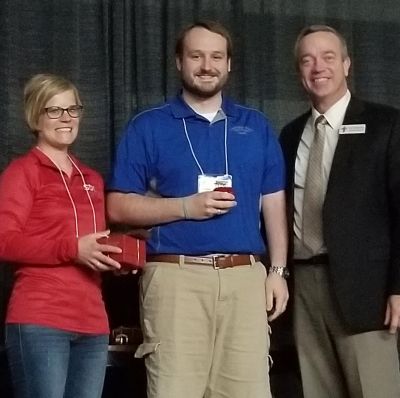 Preston Sunderman '17 – Nebraska District Middle/High School Educator of the Year
Preston Sunderman, a 10-12 grade history teacher at Lutheran High Northeast in Norfolk, Nebraska, was selected to receive the Nebraska District Middle/High School Educator of the Year award.
One nomination said about Preston, "He is strong in his subject area, great at interacting with students and building meaningful relationships. He excels at pushing kids to go beyond what they think they are capable of doing. He helps students stretch their way of thinking and demonstrates how to have their faith play an important role in every aspect of life."
Another nomination said, "As a history teacher, Preston doesn't emphasize dates and battles that his students would merely memorize and then forget. He teaches them to understand the perspectives of people in history. He teaches them to look at the reasons why history happened as it did and why people did what they did. This is an important skill not just as budding historians but as citizens and people."
In addition to teaching history, Preston also coaches the speech and mock trial teams and is the Student Council co-sponsor.