Theological Seminary President visits Concordia
Published by Concordia University, Nebraska 3 years ago on Fri, Feb 21, 2020 9:10 AM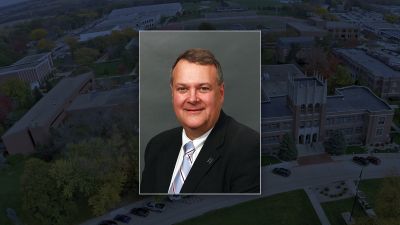 Rev. Dr. Larry Rast Jr., Concordia Theological Seminary president, will speak to campus March 2 at 7 p.m. in the Thom Leadership Education Center auditorium.
Concordia University, Nebraska will welcome Rev. Dr. Larry Rast Jr., president of Concordia Theological Seminary in Fort Wayne, Indiana, to campus March 2. As part of his visit, Rast will host a presentation titled "Facing Disruptions in College, Culture and Church" at 7 p.m., in Thom Leadership Education Center auditorium that is free and open to the public.
In addition to serving as president of the Seminary, Rast is a professor of American Christianity and American Lutheranism. Since 2006, he has served as the chairman of The Lutheran Church—Missouri Synod (LCMS) Commission on Theology and Church Relations. The commission provides guidance and leadership in the areas of theology and church relations, including doctrinal issues as well as social concerns such as divorce, gender identity and immigration.
Rast also serves as president and member of the Board of Directors for the journal Lutheran Quarterly. Rast regularly presents at district and congregational workshops, retreats and conferences around the country. He has represented the Seminary and the Synod at numerous international conferences and by teaching in Argentina, Brazil, Tanzania, Kenya, South Africa, Ethiopia, Ghana, Russia, Germany, Sweden, Belgium, the Czech Republic and elsewhere throughout the world.
While on campus, Rast will lead the daily chapel service at 11 a.m., visit with pre-seminary students and meet with theology and history faculty. The March 2 chapel service will be livestreamed on the Concordia University Church Relations Facebook page.