Theater honor society inducts new members at Concordia
Published by Concordia University, Nebraska 7 years ago on Sat, May 3, 2014 9:27 AM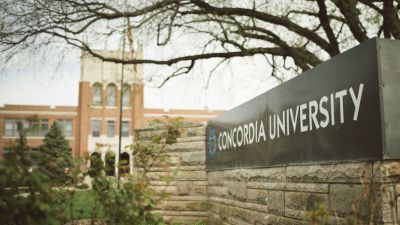 The Nebraska Omega Lambda chapter of Alpha Psi Omega, a national theater honor society, inducted five new members this spring. The society recognizes student involvement in theater arts programs.
Admission is based on a points system, and inductees must recite a Shakespearean monologue during their induction.
The chapter also recognized six graduating seniors.
2014 Alpha Psi Omega inductees include:
Andrew Crist, sophomore, Springfield, Mo.
Zachary Klatt, junior, Overland Park, Kan.
Ruth Krc, senior, Frederick, Md.
Alyssa Lehenbauer, junior, Lake Ozark, Mo.
Brooke Zarick, sophomore, Seymour, Ind.
Graduating seniors include:
Sarah Dinger, Pocatello, Idaho
Amanda Hutton, Stevens Point, Wis.
Ruth Krc, Frederick, Md.
Joshua Schultz, Mapleton, Minn.
Andrew Schwartz, Greeley, Colo.
(Laura) Caitlynn Schwehn, Grand Island, Neb.