Theater honor society inducts new members
Published by Concordia University, Nebraska 10 years ago on Fri, Apr 22, 2011 12:41 PM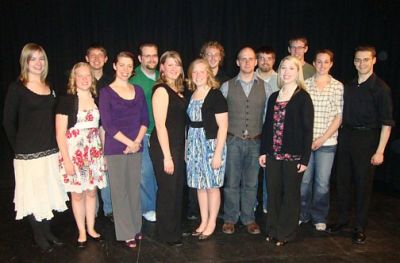 Inductees into Alpha Psi Omega are (back l-r) Tyler Beltz, Nathaniel Bellin, Jacob Wagner, Josh Schultz, Andrew Schwartz, Rory Wendelin, Henning Peterson, (front l-r) Beth Brackmann, Heidi Niedfeldt, Dottie Avery, Emilie Schultz, Heather Niedfeldt, Bryce Tellmann and Sarah Dinger.
Concordia's chapter of Alpha Psi Omega, a national theater honor society, inducted 18 new members in April.
Alpha Psi Omega is a theater honor society recognizing contributions to a particular theater or department. Admittance into Alpha Psi Omega is based on a point system.
"You get points for participating in productions or activities," said Bryan Moore, assistant professor of communication and theatre. "You can get points for acting, directing, doing tech or designing. They're all worth different amounts of points."
In addition to meeting the point requirement, students had to perform a Shakespearean monologue at the induction ceremony to be accepted into Alpha Psi Omega.
"It's an honor," said junior Sarah Dinger. "It recognizes all the work we put into the theater department. He [Moore] told us some of the people who have been in it here before and being counted among them is great. They were people I looked up to when I started here."
Alpha Psi Omega Inductees:
Dottie Avery, Senior, San Antonio, Texas
Nathaniel Bellin, Senior, Racine, Wis.
Tyler Beltz, Senior, Norfolk, Neb.
Beth Brackmann, Junior, Parker, Colo.
Sarah Dinger, Junior, Pocatello, Idaho
Mikaela Klein, Senior, Grand Island, Neb.
Mary Krc, Junior, Frederick, Md.
Abbie Kuehn, Senior, Lincoln, Neb.
Heather Niedfeldt, Senior, Stella, Neb.
Heidi Niedfeldt, Senior, Stella, Neb.
Henning Peterson IV, Junior, Parker, Colo.
Katrina Schulteis, Junior, Greenfield, Iowa
Emilie Schultz, Senior, Houston, Texas
Josh Schultz, Junior, Mapleton, Minn.
Andrew Schwartz, Sophomore, Greeley, Colo.
Bryce Tellmann, Junior, New Salem, N.D.
Jacob Wagner, Senior, Paullina, Iowa
Rory Wendelin, Junior, Oberlin, Kan.