Theater department presents "The Matchmaker"
Published by Concordia University, Nebraska 8 years ago on Wed, Mar 27, 2013 4:04 PM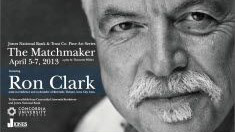 Theater expert Ron Clark played Horace Vandergelder in Concordia's production of "The Matchmaker" April 5-7.
Concordia's theater department presented "The Matchmaker," a play by Thornton Wilder, April 5-7 in the Weller Hall auditorium. The show was directed by Bryan Moore, assistant professor of communication and theater.
The play follows Dolly Levi, a matchmaker whose own plans comically cross paths with those for whom she makes arrangements. Levi helps businessman Horace Vandergelder search for the perfect companion and ignites relationships among other couples as well, all while secretly hoping to fall in love herself.
The production was part of the Jones Fine Art Series, established in 2003 and sponsored by Jones National Bank and Trust Company. As part of the educational and concert series, a distinguished artist or artisans spend several days at Concordia teaching and rehearsing with students, culminating in a public performance each year.
This year, the series featured Ron Clark, artist-in-residence and co-founder of the Riverside Theatre in Iowa City, Iowa. Clark played the role of Horace Vandergelder in the production, rehearsing at Concordia with the rest of the cast for five weeks. During his stay on campus, Clark also engaged in workshops, classes and other meetings with students and faculty.
Clark has worked in theaters around the Midwest and in Seattle, sharing his talent in acting, directing and writing. He is a distinguished artist-in-residence at Cornell College in Mount Vernon, Iowa, and holds a Master of Fine Art degree in acting from the University of Iowa.
Cast:
Horace Vandergelder: Ron Clark, Iowa City, Iowa
Cornelius Hackl: Daniel Miller, Senior, West Point, Neb.
Barnaby Tucker: Joseph Weilnau, Senior, Monroe, Mich.
Malachi Stack: Conner Lloyd, Sophomore, Parker, Colo.
Ambrose Kemper: Andrew Magnus, Sophomore, Springfield, Mo.
Rudolph: Zachary Klatt, Sophomore, Overland Park, Kan.
August: Andrew Crist, Freshman, Springfield, Mo.
Cabman: Tyler Nicholas, Junior, Lincoln, Neb.
Joe Scanlan: Sean Carpenter, Freshman, Hollis, N.H.
Dolly Levi: Sarah Dinger, Senior, Pocatello, Idaho
Irene Malloy: Mallory Hicks, Senior, Aurora, Colo.
Minnie Fay: Elyssia Finch, Freshman, Omaha, Neb.
Ermengarde: Naomi Kuddes, Sophomore, Austin, Minn.
Gertrude: Jenna Karlin, Sophomore, Lincoln, Neb.
Flora Van Huysen: Alyssa Lehenbauer, Sophomore, Lake Ozark, Mo.
Cook: HillieRe Otto, Junior, Watertown, Minn.
Musician: Michaela Gierke, Sophomore, Billerica, Mass.
Crew:
Director: Bryan Moore, asst. professor of communication and theater
Asst. Director: Stephanie Rippstein, Junior, Seward, Neb.
Stage Manager: Brindie Howerton, Sophomore, Kaneone, Hawaii
Set Design: Robert Olson
Scene Shop Lead Technicians: Nick Butcher, Junior, Saginaw, Mich.; Andrew Schwartz, Senior, Greeley, Colo.
Costume Design: Kirsten Awe, Junior, Tilden, Neb.; Katrina Schulteis, Senior, Greenfield, Iowa
Lighting Design: Sean Berry, Sophomore, Castle Rock, Colo.
Sound Design: Bethie Williams, Sophomore, Aurora, Colo.