Tewes honored for service to Concordia athletics
Published by Concordia University, Nebraska 7 years ago on Thu, Sep 18, 2014 9:09 AM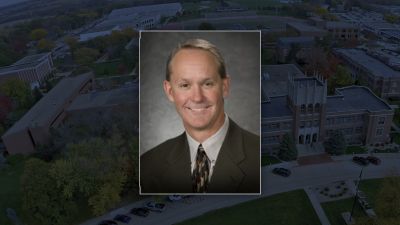 President Brian Friedrich has declared Saturday, Sept. 20, 2014, "Doug Tewes Day" at Concordia in recognition of Tewes' 20 years of service as the university's team physician. Tewes was honored during halftime of the Bulldogs' football game vs. Midland University on Saturday, Sept. 20, at 1 p.m.
"The service that Dr. Doug Tewes provides for Bulldog athletics has been invaluable to our students, their families and our athletic training staff," said Devin Smith, director of athletics at Concordia. "We are forever indebted to the many years of expertise, dedication and professionalism he has shared with his alma mater."
Tewes, a Seward native and Concordia alumnus, earned a bachelor's degree in biology in 1983 and received a Doctor of Laws honorary degree in 2013 from the university. He has also served on Concordia Foundation Nebraska's board of directors.
After graduating from Concordia, Tewes earned a medical degree from the University of Nebraska Medical Center in 1987. Tewes currently serves as an orthopedic surgeon at Lincoln Orthopaedic Center. In addition to serving as the Bulldogs' team physician, Tewes has served as a sports physician for professional, collegiate and high school sports teams. He also continues to serve the Lincoln area high schools and direct the Bryan Health Systems and Lincoln Orthopaedic Center sports medicine outreach program.
Tewes and his wife Denise have been faithful supporters of Concordia. In 2013, they established the Wil and June Tewes Science and Music Scholarship Endowment in honor of Tewes' parents who graduated from Concordia in 1956. The endowment provides scholarships for students in science and music fields of study.
Tewes was a co-chair of Concordia's On A Mission campaign, the largest campaign in university history, which raised more than $63 million and resulted in the construction of the Walz Human Performance Complex.