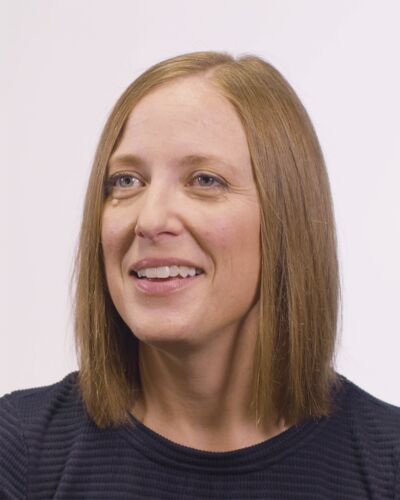 Tasha Fingerlin
Professor and Director at National Jewish Health
Tasha Fingerlin '97: Professor, Mentor, Researcher, CEO and so much more
Tasha Fingerlin '97 serves National Jewish Health in a variety of ways. She is a professor and is also Vice Chair of the Department of Immunology and Genomic Medicine, Director of the Center for Genes, Environment & Health and Director of Program in Quantitative Genetics.
She received a bachelor of science in secondary education with an emphasis in mathematics and biology from Concordia University, Nebraska in 1997, a master of science in biostatistics from the University of Michigan in 1999 and a Ph.D. in epidemiology from the University of Michigan in 2003.
Tasha recalls her time at Concordia Nebraska fondly.
"I would say the friends that I made in A Cappella choir were a huge highlight," she said. "And then just knowing that my professors knew me and cared about me and that the whole atmosphere was about Jesus and living our lives for Him and learning for Him, and what our careers would be for Him."
She said following her time at Concordia, she realized what an outstanding faculty the university offers to its undergraduate students. Classes are taught by experienced professors, not assistants or graduate students.
"I have come to appreciate how valuable it was that the [Concordia] professors were so involved and knew me," she said.
Tasha's job at National Jewish Health is multi-faceted, and she greatly enjoys her various responsibilities. At the Center for Genes, Environment and Health, Tasha mentors and offers feedback to faculty members during their research programs. She said in addition to helping with a lot of administrative tasks to help faculty with their research, she also sometimes has the opportunity to collaborate with them on their research, too.
The center also has a laboratory team and a data science team, and Tasha oversees both of those groups, as well. She said the teams serve both as resource first for the people at National Jewish Health , but also for people outside of National Jewish Health.
"If they want to do a study on the genetics and genomics of a disease, and we focus a lot on lung and immune diseases, we're not limited by that," she explained. "We can be a resource for them to be able to do that study…We process [the samples], get them the genetic or genomic information they need. And then we can also do data analysis and tell them… here's how the data relate to your hypothesis."
She said that there are also staff who do not have their own research programs. Their job is simply help other people do their research. And one of her jobs is to oversee, coordinate, and make sure that all of that is functioning well. She also conducts her own research and writes grants – mostly to the National Institutes of Health – to fund research. Most of her work focuses on interstitial lung diseases, which impact the areas around the air sacs in the lung and can be quite devastating.
"We're trying to understand the genetic underpinnings of those diseases, she explained.
Tasha is also CEO of a start-up company.
"[There is] also a lot of research and development, …it's just in a different context. But we're still writing grants and we're still working with physicians and other scientists to try to move a technology forward.
"I think most fulfilling is when I get to see other people developing in their careers, because I get to work with students when they're first coming in…they have an undergraduate degree, but they don't really know what they want to do," she said. "Some of them know exactly what they want to do, but most of them don't. So it's very fun to see that development. In addition, I get to see the same thing with faculty."
Tasha pointed out that she finds it very fulfilling to be able to solve challenging problems. While there are many problems that she cannot solve, when she and her team are able to determine a solution to a big challenge, she said that is extremely satisfying. But even more satisfying than the problem solving is the opportunity to work with so many great people, she said.
"It's the relationships with the people, both my students and faculty and staff," she added. "One of the things about the Center that we've made - and we do this in the company as well - we want to be known for a lot of things… doing great science, being invested in other people's work. But we want to be known for being a really good place to work and to be. We spend a lot of our lives there.
Tasha said she returns to Seward periodically because her parents live in the area, so she's had the opportunity to see a lot of the changes that have taken place on the Concordia Nebraska campus since she graduated. Her daughter Nora is now attending Concordia, too, and is studying chemistry.
"It's been fun because I know it's just such a good place," she said. "There's the toughness of saying goodbye. But you know she's in a great place, so that's really good.
And what advice does Tasha have for incoming freshmen?
"I say this to so many graduate students: just be open," she said. "It's great to be driven, but be driven to be excellent and be driven to learn… sometimes you know exactly what you want to do -go for it. More power to you. If you know exactly what that is, do that. But don't worry if you don't know what it is and just go in and soak it up. Learn. Talk to your professors. Talk to the other students."
She said it is important for college students to be open to the many learning opportunities that college provides, and said that you never know when a relationship or a conversation will help you discover a hidden passion or uncover a skill that can be used in a future vocation.
"Be patient, don't worry and be open," she said. "The Lord works in so many different ways. And if you're open to hearing the different ways He's going to work through others to give you insight or direction, just take it and be open."
"I just think it's incredibly important for a place like Concordia to exist," she added. "There are so many places where higher education is just not what it was even when I was going through undergrad. And so I think even more than it was then, it's just so important to have a place where there are people who are dedicated to learning, dedicated to openness, dedicated to the scientific method, dedicated to all of these things, while being in the framework of [the fact that] we are in service to our Lord and Savior."
Interested in getting involved in science programs at Concordia? Learn more here.