Students present at 2021 Academic and Research Symposium
Published by Logan Tuttle 1 year ago on Fri, Apr 30, 2021 8:54 AM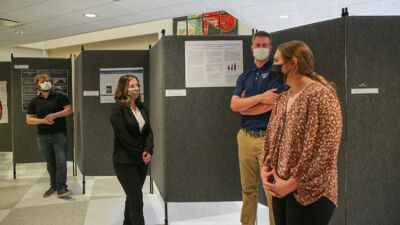 Shiloh Richters, left, Jennika Chapman, Ryan Samuelson and Jodi Fry were among the 57 students who presented over four days during Concordia's 10th annual Academic and Research Symposium April 26-29.
Concordia University, Nebraska's 10th annual Academic and Research Symposium provided students an opportunity to showcase their achievements to the campus community April 26-29.
During the four-day event aimed at showcasing undergraduate scholarship, science and research in a relaxed, interdisciplinary setting—59 poster and oral presentations were given by 57 students—ranging from art, biology, business, criminal justice, education, geology, health and human performance, literature, mathematics, physics, psychology and sociology.
"The symposium is important for students to experience because it is intended to be a culminating experience of their scholarly work at Concordia," Dr. Sara Brady, professor of psychology and the symposium's faculty sponsor, said. "For many students, this is the final step of a very long process, under the direction of their faculty supervisor."
Since last year's symposium was canceled due to the pandemic, this year's event allowed students to share their research that may have been started last year and provide some closure before graduation.
"It goes without saying that students and faculty have had a very difficult year with hybrid teaching, quarantines and mental health stressors associated with the pandemic," Brady said. "However, the symposium offers students with opportunities to share their achievements with the broader campus community in a face-to-face setting."
While students participate in the symposium, Brady said, they demonstrate some of the skills they've learned during their time at Concordia—including critical thinking, interpreting information from multiple viewpoints, conducting analyses, developing novel ideas and organizing entire bodies of literature into coherent narratives that can be easily understood by people unfamiliar with their field.
Students participating in the 10th annual Academic and Research Symposium include (listed alphabetically by last name):
Nathan Auffet, junior, Benkelman Neb.
Dalton Berry, senior, Seward, Neb.
Luke Blomenberg, senior, Norfolk, Neb.
Sonja Brandt, senior, Knob Noster, Mo.
Martha Brauning, senior, Lincoln, Neb.
Brynna Bruxellas, freshman, Falls City/Humboldt, Neb.
Jennika Chapman, senior, Westminster, Colo.
Taylor Cockerill, senior, Waverly, Neb.
Jasmine Cody, junior, Alamosa, Colo.
Rachel Deppe, senior, Ankeny, Iowa
Trevor Dey, senior, Gresham, Neb.
Lukas Diehm, senior, Las Vegas, Nev.
Beau Dorman, senior, Scottsdale, Ariz.
David Ehrke, junior, Alma, Neb.
Logan French, sophomore, Fort Collins, Colo.
Jodi Fry, senior, Ewing, Neb.
Jacob Garrison, senior, Malcolm, Neb.
Kassidy Grosserode, senior, Neligh, Neb.
Michael Grundstrom, senior, Rapid City, S.D.
Andrew Haase, senior, Concordia, Mo.
Simon Higgason, senior, Sioux Falls, S.D.
Emma Hopfer, junior, St. Louis, Mo.
Quinton Janecek, sophomore, Gering, Neb.
Kyndle Kirby, senior, Palmer, Alaska
Megan Klenke, senior, Friend, Neb.
Mackenzie Koepke, junior, Lincoln Neb.
Jonah Lange, senior, Concordia, Mo.
Dani Larsen, junior, Omaha, Neb.
Noah Larson, junior, Gothenburg, Neb.
Wyatt Lehr, junior, Lamar, Colo.
Olivia Leising, sophomore, Arapahoe, Neb.
Wyatt Loga, sophomore, Bee, Neb.
Cassandra Lopez Flores, senior, Sutton, Neb.
Samantha Lyon, senior, Wood River, Neb.
Abigail Lyons, senior, Dwight, Neb.
Tristin Mason, senior, Hampton, Neb.
Abigail Mullen, junior, Minburn, Iowa
Mackenze Origer, senior, Willow, Alaska
Ethan Pankow, junior, Milwaukee, Wis.
Michelle Porath, senior, Lexington, Neb.
Kathryn Potter, junior, Wilcox, Nebraska
Kaitlyn Radebaugh, senior, Roca, Neb.
Shiloh Richters, senior, Utica, Neb.
Caleb Roberts, senior, Wamego, Kan.
Hayden Salt, sophomore, Sydney, New South Wales
Ryan Samuelson, senior, Gretna, Neb.
Rosanna Scott, sophomore, West Fork Ark.
Samuel Sisco, senior, David City, Neb.
Jetta Tegeler, senior, Lincoln, Neb.
Faith Troshynski, senior, Manson, Iowa
Colten Uitermarkt, junior, Otley Iowa
Drew Ward, senior, Houston, Texas
Sam Weiss, junior, Beaufort, Mo.
Micah Willweber, sophomore, Kailua, Hawaii
Kyle Wilshusen, senior, Omaha, Neb.
Tanner Wubbels, junior, Hickman, Neb.
Mario Ybarra, junior, Scottsbluff, Neb.