Students organize winter clothing donation drive
Published by Logan Tuttle 1 year ago on Thu, Feb 11, 2021 5:19 PM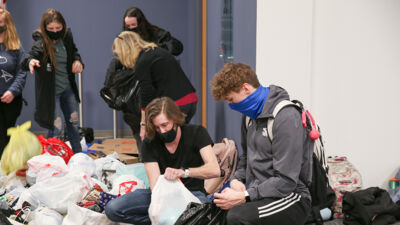 Concordia students sort clothing donations for the People's City Mission and Seward County Foster Friends on March 2.
Students in Dr. Kathy Miller's social problems class have organized a winter clothing drive to benefit the People's City Mission in Lincoln and the Seward County Foster Friends. The drive will provide warm clothing, food and hygiene items that will be donated to those in need. Donations will be collected until March 1.
"People's City Mission and Seward County Foster Friends do a lot for people in all kinds of situations from deep poverty to situational poverty," Miller said. "Foster Friends helps me with items for Project Homeless each fall and they also work with the Indian Center and Pine Ridge Reservation. Over the last few years, we have worked closely with People's City Mission by collecting items for them and also bringing students and community groups to voluntarily serve meals."
Men's and women's winter clothing is requested for all ages and sizes, in addition to the following items (clothing can be gently used or new):
Socks (all kinds)
Men's winter gloves
Sport-wind pants in boy's and men's sizes
Athletic shorts for men
Sweatpants and sweatshirts in boy's and men's sizes
Bottled water
Granola bars
Washcloths
Deodorant for men and women
Sanitizing wipes
Cleaning supplies
Latex gloves
Collection boxes are located on-campus for students, faculty and staff in Weller Hall, Janzow Campus Center, Thom Leadership Education Center, Dunklau Center, Jesse Hall, Brommer Hall, Link Library and David and Ruth residence halls.
Donations may also be dropped at St. John Lutheran Church, Faith Lutheran Church and Seward Memorial Library.
The drive is a collaboration between students in Miller's class who are assigned to different nonprofit organizations. Brady Klute, Allison Taylor and Sabrina Reed are working with People's City Mission, and Aliyah Adams, Lisa McClain and Jourdhin Smith are working with Seward County Foster Friends. Many more of Miller's students are volunteering at local nonprofits in Seward County and Lincoln.
"These are great opportunities to put in action what we are learning in class about poverty, homelessness and low wage jobs," Miller said. "Many of my students have found their passion doing these projects and some continue to volunteer with these organizations after the semester."