Students feature original musical compositions in spring recital
Published by Concordia University, Nebraska 7 years ago on Fri, Apr 15, 2016 11:05 AM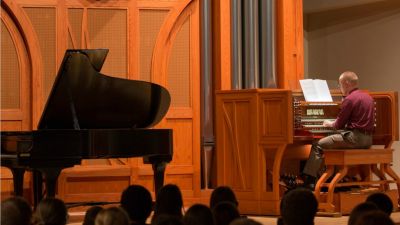 Concordia students compose and perform original vocal and instrumental music on campus in the Music Building's Recital Hall.
Music composed by Concordia University, Nebraska students will be featured in a recital on April 20, 2016, at 7 p.m. in the Recital Hall of the Music Center on campus.
None of this music has been heard before. The student composers create the music, recruit performers for their works and organize their rehearsals, and many are participating in their own pieces as performers or conducting.
Each piece that will be played has different instrumentation, so numerous musical styles will be performed throughout the recital.
Students performing in the recital include (alphabetical by state, city, last name):
Joseph Pierson, junior, Van Buren, Ark.
Caleb Wehling, junior, Liberal, Kan.
Laura Wiederrich, senior, Lodi, Calif.
Ryan Gross, senior, Riverside, Calif.
Lindsay Sampson, junior, Tustin, Calif.
Brianna Bossle, junior, Coral Springs, Fla.
Meredith Locke, sophomore, Winter Haven, Fla.
Jacob Henson, senior, Herrin, Ill.
Jonathan Grant, freshman, Waterloo, Ill.
Sarah Mueller, freshman, Wheaton, Ill.
Jennifer Reynolds, senior, Fort Wayne, Ind.
Matthew Gerhold, freshman, Atkins, Iowa
Hannah Weber, senior, Manchester, Iowa
Emily Jensen, senior, Sioux City, Iowa
Luke Kaldahl, senior, Spencer, Iowa
Christian Schultz, senior, Wamego, Kan.
Austin Theriot, junior, Lake Charles, La.
Emily Sievert, sophomore, Frankenmuth, Mich.
Mason Koeritz, senior, Northrop, Minn.
Benjamin Hayter, junior, Concordia, Mo.
Vanessa Marsh, freshman, Concordia, Mo.
Todd Brueckner, junior, Perryville, Mo.
Karl Rovey, senior, Springfield, Mo.
Caleb Worral, sophomore, Fargo, N.D.
Jonathan Jahnke, senior, West Fargo, N.D.
Talitha Elbert, senior, Albuquerque, N.M.
Megan Sparling, senior, Columbus, Neb.
Paige Stadler, freshman, Columbus, Neb.
Naomi Ristvedt, senior, Crete, Neb.
Nathan Klaumann, freshman, Fairbury, Neb.
Caleb Staehr, freshman, Grand Island, Neb.
Lauren Staehr, senior, Grand Island, Neb.
Britnee Fear, freshman, Hershey, Neb.
Adam Meirose, senior, Lincoln, Neb.
Clara Rich, senior, Lincoln, Neb.
Micah Most, freshman, Ogallala, Neb.
Lydia Jeppesen, freshman, Pleasant Dale, Neb.
Aaron Blersch, sophomore, Seward, Neb.
Joshua Brumm, freshman, Seward, Neb.
Aaron Strackbein, sophomore, San Antonio, Texas