Students display art in Kansas City gallery
Published by Concordia University, Nebraska 12 years ago on Fri, Sep 10, 2010 2:54 PM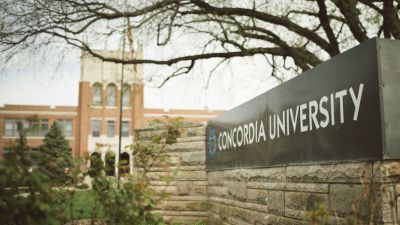 An art exhibit featuring the work of four Concordia students opened at the Imago Dei Gallery in Kansas City, Kan., on Friday, Sept. 10. The students, seniors Megan Birnstein, Kansas City, Mo.; Kimberly Francis and Lauren Onions, Overland Park, Kan.; and junior Todd Meier, Gladstone, Mo., are all from the Kansas City area. Donald Robson, chair of Concordia's art department, is the curator for the exhibit.
Robson feels providing such real world opportunities are essential for art students. "I had a one-person show at Imago Dei this summer. The director asked if I would be interested in curating a show for Concordia students. I jumped at the chance as it was a great opportunity for our students," explained Robson. "Preparing for an exhibition and talking about their work at a public venue is invaluable to their development as artists."
Onions had three paintings and two ceramic vessels in the show. "The surfaces of both vessels are textured and meant to engage the viewer in thinking about the pot as a whole as well as considering individual areas that they find beautiful," she explains. The paintings also emphasize Onion's philosophy about the engagement of the audience with her art. "Instead of just passively walking around artwork in a gallery space, I want my work to help all people to be able to think and talk about the specific work they are seeing or art in general on some level."
Showcasing his skills as both an abstract and realistic artist, Meier had three paintings in the exhibit. Francis exhibited printmaking and painting pieces. Her pieces are both representational and abstract. Birnstein works on canvas using oil or acrylic paint primarily. All three of her pieces in the show look at the idea of perception, especially as she sees it in her family history.
The exhibit ran through Friday, Oct. 1. Imago Dei Gallery is located at 1015 Minnesota Avenue, Kansas City, Kan.