Students Debut Works at Spring 2022 Composers Recital
Published by Brooke Lange 11 months ago on Tue, Apr 12, 2022 3:43 PM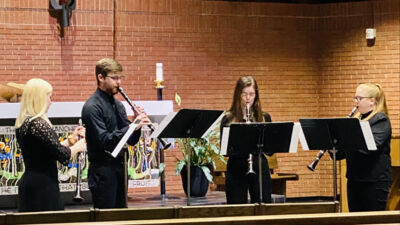 Katheryn Rice, Caleb Zeckzer, Bella Schmid, and Kendra Johnson performed "Into the Stratosphere" composed by Kendra Johnson at the Spring 2022 Composers Recital
Concordia University Nebraska held its Spring Composer's Recital on Tuesday, March 29 at St. John Lutheran Church in Seward, Nebraska.
Included in the program were premiere performances of pieces written by ten Concordia student composers, comprised of a variety of music written for vocals, piano, winds, and strings.
"Developing one's own creativity is an important part in the development of a musician. By creating works of their own, students discovered a lot about their own musical personality and had the opportunity to experiment with new forms and ideas," Dr. Jeffrey Blersch, professor of music, said. "The final step in the creative process is hearing these works, which the students have heard in their head for many months, come to life and be performed."
The music is listed by program order, with the composer first, followed by the performers:
"Passion"
Composed and performed by Thomas Schulteis, sophomore, Parker, Colo., organ
"A Love Ballad Without a Name"
Composed by Nathan Pennington, junior, Lincoln, Neb.
Jonathan Landrey, junior, Seward, Neb., baritone
Nathan Pennington, piano
"A Chorale for Friends"
Composed by Bethany Zeckzer, senior, New Haven, Ind.
Isaac Weander, sophomore, Norfolk, Neb., alto saxophone
Nathan Birtell, junior, Holdredge, Neb., tenor saxophone
Logan Walgate, freshman, St. Charles, Mo., baritone saxophone
"The Mountains"
Composed by Nathan Leonard, senior, Wichita, Kan.
Hannah Eatherton, junior, Sheboygan, Wis., cello
Nathan Pennington, piano
"In The Very Midst of Life"
Composed by Renata Peperkorn, junior, Rocklin, Calif.
Makenna Clovis, junior, Albuquerque, N.M., soprano
Olivia Leising, junior, Arapahoe, Neb., soprano
Jill Bultemeier, senior, Texarkana, Texas, alto
Katie Benkendorf, junior, Cape Girardeau, Mo., alto
Isaac Weander, tenor
Caleb Zeckzer, sophomore, New Haven, Ind., tenor
Nathan Pennington, bass
Jonathan Landrey, bass
Renata Peperkorn, piano
"Three Pieces for Clarinet and Piano"
Composed by Calvin Rohde, sophomore, Reed City, Mich.
Caleb Zeckzer, clarinet
Calvin Rohde, piano
"The Feast of Immortality"
Composed by Ethan Gillespie, freshman, Random Lake, Wis.
Kirsten Horne, freshman, Canton, Kan., soprano
Brianna Bianco, freshman, Loveland, Colo., alto
Benjamin Brenckle, sophomore, Kewaksum, Wis., tenor
Ryan Edinger, freshman, Wentzville, Mo., bass
Ethan Gillespie, piano
Rebekah Eatherton, junior, Sheboygan, Wis., flute
Thomas Schulteis, sophomore, Parker, Colo., conductor
"Wondrous Love"
Composed and performed by Ryan Edinger, organ
"God's Grandeur" text by Gerard Manley Hopkins
Composed by Katie Benkendorf
Renata Peperkorn, soprano
Olivia Leising, soprano
Jill Bultemeier, alto
Katie Benkendorf, alto
Isaac Weander, tenor
Caleb Zeckzer, tenor
Nathan Pennington, bass
James Gramzow, senior, Royal Oak, Mich., bass
"Into the Stratosphere"
Composed by Kendra Johnson, freshman, Council Bluffs, Iowa
Bella Schmid, freshman, Rockford, Ill., clarinet
Caleb Zeckzer, clarinet
Kendra Johnson, clarinet
Katheryn Rice, freshman, Bellevue, Neb., clarinet