Student musicians display performance talents in recital
Published by Concordia University, Nebraska 1 year ago on Fri, Oct 25, 2019 11:51 AM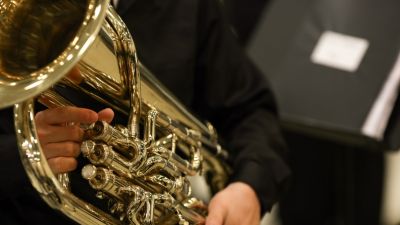 Concordia's Fall Honor Recital showcases music students Tuesday, Oct. 29 at 7 p.m., in the Recital Hall of the Music Center on campus.
Concordia University, Nebraska, will hold its Fall Honor Recital Tuesday, Oct. 29 at 7 p.m., in the Recital Hall of the Music Center on campus.
"We have many, many talented students in the music department, vocalists and instrumentalists alike, and the Honor Recital will show a sampling of them,' said Dr. Elizabeth Grimpo, associate professor of music. "Our students work hard; they are dedicated to their art; they love music; and they feel privileged to share it with an audience."
The semiannual honor recital at Concordia showcases the vocal and instrumental talents of student musicians. Musicians are chosen to perform based on auditions judged by music department faculty. The recital is held twice a year, once each semester.
Students performing in the Honor Recital include (alphabetical by state with Nebraska first, city, last name):
Hannah Birtell, junior, Holdrege, Neb., playing "The Final Battle Cry" by Alexis Carrier on the French horn
Aaron Ferguson, senior, Hyannis, Neb., playing "Trumpet Tune" by Charles Callahan on the organ
Avery Kesar, senior, Omaha, Neb., singing baritone on "Come Away, Death" by Roger Quilter
Renata Peperkorn, sophomore, Rocklin, Calif., playing Wir glauben all an einen Gott, BWV 680 by J.S. Bach on the organ
Gabriel Jofre, senior, Sterling, Colo., playing "Concerto in Eb minor for alto saxophone" by Alexander Glazunov on the saxophone
Jennifer Horne, freshman, Canton, Kan., playing Sonata in D Major, Op. 25, No. 6, I. Presto by Muzio Clementi on the piano
Christoph Marsh, freshman, Concordia, Mo., singing tenor on Der Neugierige by Franz Schubert
Charlotte Lines, junior, Marshall, Mo., playing "Novelette in C Major" by Francis Poulenc on the piano
Rebekah Eatherton, sophomore, Garland, Texas, playing "Sonata No. 1, I. Andante" by J.S. Bach on the flute.