Student musicians display composition and performance talents in spring recitals
Published by Concordia University, Nebraska 1 year ago on Fri, Mar 29, 2019 11:24 AM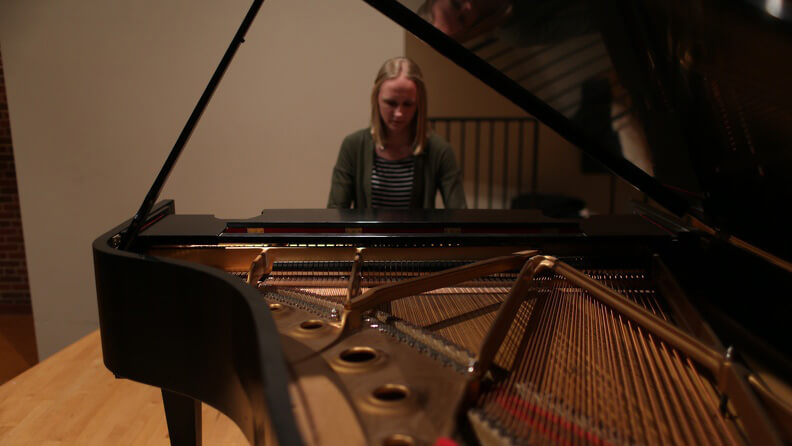 Concordia University, Nebraska, will hold its Spring Composer Recital at 7 p.m. Thursday, April 11, in the Recital Hall of the Music Center on campus.
Seven students have composed original pieces for the Composer Recital. The recital comprises a variety of music written for vocals, piano, winds, strings and drums.
"This recital is a great opportunity for the student composers to practice organizing a performance by recruiting performers and leading rehearsals of their own music," said David von Kampen, music instructor in composition. "All of the music has been composed or arranged this semester, so every piece in the recital is a world premiere."
The music is listed alphabetically below with the composer first, followed by the performers (listed alphabetically by state, city and then last name):
"Closet Prayer"
Composed and conducted by Thomas Johnson, senior, Omaha, Neb.
Text by Carrie Black, sophomore, Highlands Ranch, Colo.
Bethany Schilling, junior, Littleton, Colo., soprano I
Bethany Zeckzer, freshman, New Haven, Ind., alto I
Elizabeth Lange, junior, Topeka, Kan., alto II
Brooke Ann Duerr, freshman, Warren, Mich., alto II
Emma Brand, junior, Springfield, Mo., alto I
Megan Kroeker, sophomore, Henderson, Neb., soprano II
Rebekah Guilford, freshman, Lincoln, Neb., soprano II
Cecilia Minchow, freshman, Lincoln, Neb., soprano II
Shanda Fujan, sophomore, Oakland, Neb., soprano I
Keziah Bruns, sophomore, Waco, Neb., alto I
Melinda Buhler, senior, Fort Worth, Texas, soprano I
Sarah Benz, sophomore, Campbellsport, Wis., alto II
"Groovin' "
Composed and performed by Brandon Holmes, junior, Waconia, Minn., trumpet
Gabriel Jofre, junior, Sterling, Colo., saxophone
Thomas Johnson, senior, Omaha, Neb., piano
Trevor Fiala, sophomore, Valley Park, Mo., bass
Matthew Goltl, junior, Wichita, Kan., drums
"Pieces for Children: I. Good Morning, IV. With Friends, III. Naptime"
Composed and performed by Caleb Silcott, senior, Seward, Neb., piano
"Stand Behind the Savior"
Composed and performed by Shelby Todd, freshman, Staplehurst, Neb., vocals and guitar
Whitney Borchardt, freshman, Henning, Minn., vocals and banjo
Shanda Fujan, sophomore, Oakland, Neb., vocals
Noelle Buller, freshman, Omaha, Neb., violin
Jazmyn Yates, senior, Omaha, Neb., vocals
Noah Freeman, sophomore, Bend, Ore., piano
"The Day Thou Gavest"
Arranged and performed by Rebekah Guilford, freshman, Lincoln, Neb., trumpet II
Danae Welling, senior, Ashland, Neb., tuba
Hannah Birtell, sophomore, Holdrege, Neb., horn
Lydia Jeppesen, senior, Pleasant Dale, Neb., trumpet I
Karissa Ternus, freshman, Valley Springs, S.D., trombone
"Uphill Heart"
Composed, conducted and performed by Jacob Sumpter, senior, Superior, Neb., tenor
Olivia Proctor, freshman, Glendale, Ariz., alto
Bethany Schilling, junior, Littleton, Colo., soprano
Bethany Zeckzer, freshman, New Haven, Ind., alto
August Bollhagen, freshman, Hampton, Iowa, bass
Josiah Schultz, senior, Bay City, Mich., tenor
Zachary Mueller, freshman, Frankenmuth, Mich., bass
Max Johnston, sophomore, White Bear Lake, Minn., bass
Danae Welling, senior, Ashland, Neb., soprano
Alyssa Hoeft, sophomore, Garland, Neb., alto
Caleb Silcott, senior, Seward, Neb., piano
Tabitha Ristvedt, freshman, Utica, Neb., soprano
"You Will Not Abandon My Soul"
Composed, conducted and performed by Bethany Zeckzer, freshman, New Haven, Ind., alto
August Bollhagen, freshman, Hampton, Iowa, bass
Zachary Mueller, freshman, Frankenmuth, Mich., bass
Brooke Ann Duerr, freshman, Warren, Mich., soprano
Garret Drews, freshman, Fremont, Neb., tenor
Trent Bruntz, freshman, Hastings, Neb., tenor
Rebekah Guilford, freshman, Lincoln, Neb., alto
Cecilia Minchow, freshman, Lincoln, Neb., soprano
Thomas Johnson, senior, Omaha, Neb., bass
Avery Kesar, sophomore, Omaha, Neb., bass
Tabitha Ristvedt, freshman, Utica, Neb., soprano
Noah Freeman, sophomore, Bend, Ore., tenor
Sarah Benz, sophomore, Campbellsport, Wis., alto