Student-directed plays provide weekend of free performances
Published by Concordia University, Nebraska 7 years ago on Tue, Apr 1, 2014 9:40 AM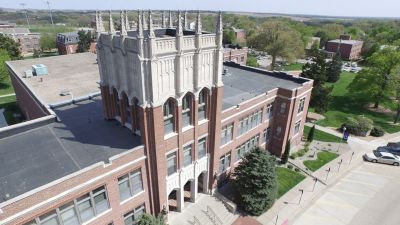 Six short plays were staged as part of the annual One-Act Play Festival at Concordia April 10-12 in the Music Center's Studio Theater.
Students from Concordia's Play Production class directed each show, making decisions about the cast, costumes, lighting, sound and set pieces. The directors planned and organized rehearsals, worked with actors and designers both on and off stage and worked with other students in the class to produce a weekend full of performances.
"Whether these students want to teach theater or work in a community or professional theater setting in the future, this academic setting gives them a chance to share and learn from each other and from their successes and mistakes," Associate Professor of Communication and Theater Bryan Moore said. "For other participants, students get more opportunities to audition and perform or to assist on the technical side."
The content of the six plays ranged from serious to satirical, whimsical to edgy, Moore said, "but they all make you think critically in some way, which should be the case with theater."
This year's festival included the following one-act plays and casts:
"A Silent Gale," written and directed by graduate student Rory Wendelin of Oberlin, Kan.
Noel Richardson, a senior from Junction City, Kan., playing Erik
Jenna Karlin, a senior from Lincoln, Neb., playing Olivia
Ella Gray, a guest actor from Seward, Neb., playing Anna
"Please Take a Seat and Someone Will Be With You Shortly" by Garth Wingfield
Andrew Magnus, a junior from Springfield, Mo., directing
Tanner Bohlender, a freshman from Lincoln, Neb., playing David
Elyssia Finch, a sophomore from Omaha, Neb., playing Sue
"Playwriting 101: The Rooftop Lesson" by Rich Orloff
Christopher Wilson, a junior from Fremont, Calif., directing
Mitch Walkup, a junior from York, Neb., playing the jumper
Izaak Wendorff, a freshman from Winthrop, Minn., playing the Good Samaritan
Mark Gaschler, a senior from Imperial, Neb., playing the teacher
"John and Maggie" by D.M. Larson
Conner Lloyd, a junior from Parker, Colo., directing
Crayton Noe, a sophomore from Seward, Neb., playing John
Alyssa Lehenbauer, a junior from Lake Ozark, Mo., playing Maggie
Lindsey Warneke, a sophomore from Plano, Texas, playing Janey
"Ghostly Trinkets" by Charron Contival
Stephanie Shearer, a sophomore from Arapahoe, Neb., directing
Paul Nelson, a freshman from Norfolk, Neb., playing the old man
Taylor Baumeister, a junior from De Pere, Wis., playing the female voice
Cameron Christiansen, a freshman from Palmer, Alaska, playing the male voice
Caleb Haack, a sophomore from Omaha, Neb., playing the young thief
"Admissions" by Colleen Neuman
Kelsey Livingston, a senior from Seward, Neb., directing
Allie Parkhurst, a junior from Camden, N.Y., playing Evelyn
Zach Klatt, a junior from Shawnee Mission, Kan., playing Peter
Allison Caudle, a freshman from Greeley, Colo., playing Aunt Sill, et al.