2019 Student Art Exhibition on display at the Marxhausen Gallery of Art
Published by Concordia University, Nebraska 2 years ago on Mon, Apr 1, 2019 11:20 AM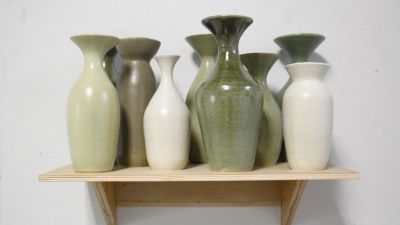 Sarah Johnson and other Concordia students will have their art featured in an annual adjudicated exhibit.
The best of Concordia students' artwork, as judged by Concordia's full-time art faculty, are on display at the Marxhausen Gallery of Art from March 31 through April 11. The exhibit is free and open to the public.
An opening reception will be held from 1 to 4 p.m., Sunday, April 7, with an awards presentation at 2 p.m. in the Marxhausen Gallery of Art.
Art majors are required to enter their work to be judged. If accepted, their artwork is displayed in the gallery and will be eligible for monetary awards. Five endowed scholarships are among the awards. First and second-year art majors must submit five works of any type of art. Third and fourth-year students must enter seven pieces. If desired, students are able to sell their art during and after the exhibition.
"The Annual Student Art Exhibition is a spring tradition for the university's art community and an opportunity for the Department of Art to showcase our student's talent," said professor Don Robson, Concordia's art department chair. "The reception is a time for celebration and is always well attended by students, professors, family and friends.
The exhibit is open to the public and free of charge. The Marxhausen Gallery is located in Jesse Hall and is open 11 a.m. to 3 p.m., Monday–Friday and 1 p.m. to 4 p.m., Saturday and Sunday while classes are in session.
Concordia students with artwork selected for exhibition include (alphabetical by state, city, last name):
Nebraska
Lanessa Kerner, sophomore, Arapahoe, Neb.
Emma Dannehl, senior, Bertrand, Neb.
Paighton Barbre, junior, Columbus, Neb.
Sam Sisco, sophomore, David City, Neb.
Hayley Denner, freshman, Diller, Neb.
Claire Flood, sophomore, Firth, Neb.
Allison Pinkall, sophomore, Gretna, Neb.
Hannah Mulligan, sophomore, Hastings, Neb.
Evan Hayden, junior, Kearney, Neb.
Malena Goldenstein, sophomore, Kenesaw, Neb.
Courtney Kuehn, senior, Kenesaw, Neb.
Hannah Sain, senior, Lincoln, Neb.
Mindy Van Wart, post-baccalaureate, Lincoln, Neb.
Lukas Solberger, sophomore, Louisville, Neb.
Marissa Fuchser, senior, Malcolm, Neb.
Dylan Cookus, freshman, Milford, Neb.
Tiffany Hovendick, freshman, Milford, Neb.
Jessica Wang, junior, Milford, Neb.
Kassidy Grosserode, sophomore, Neligh, Neb.
Brooke Gettman, junior, Norfolk, Neb.
Shanda Fujan, sophomore, Oakland, Neb.
Evan Asche, senior, Omaha, Neb.
Aaron Carlson, junior, Papillion, Neb.
Taylor Zehendner, freshman, Pleasanton, Neb.
Kyra Kennedy, sophomore, Purdum, Neb.
Debbie (Lang) Preuss, post-baccalaureate, Seward, Neb.
Megan Boye, senior, Seward, Neb.
Allison Brooks, senior, Seward, Neb.
Clara Heinicke, junior, Seward, Neb.
Zach Moll, senior, Seward, Neb.
Miranda Stamm, senior, Seward, Neb.
Erin Lindeman, junior, Sidney, Neb.
Emily Niemeier, freshman, St. Libory, Neb.
Elisa Kurth, freshman, Stromsburg, Neb.
Alabama
Sophie Thorsen, senior, Huntsville, Ala.
Colorado
Savannah Dietz, junior, Denver, Colo.
Everett Elder, sophomore, Greeley, Colo.
Monica Brown, freshman, Northglenn, Colo.
Iowa
Celia Askelsen, freshman, Indianola, Iowa
Jacy Embray, senior, Glenwood, Iowa
Minnesota
Sarah Johnson, junior, Waconia, Minn.
Missouri
Sarah Armbrust, freshman, Ballwin, Mo.
Rebekah Hinrichs, junior, Gladstone, Mo.
Jordyne Vanselow, senior, Greenwood, Mo.
Kelly Snader, senior, Higginsville, Mo.
Jacob Brandt, freshman, Knob Noster, Mo.
Sonja Brandt, senior, Knob Noster, Mo.
Natalie Dremann, freshman, O'Fallon, Mo.
Patrick Schneeberger, sophomore, Raymore, Mo.
Emma Brand, junior, Springfield, Mo.
Montana
Luke Comstock, senior, Bigfork, Mont.
Nevada
McKenzie Gravo, junior, Henderson, Nev.
Texas
Liliana Barrientos, junior, El Paso, Texas
Washington
Olivia Walsh, freshman, Sammamish, Wash.
International
Luisa Esquivel Bustamante, freshman, Mexico City, Mexico