Spring Jazzfest and Handbell Concert finish out the musical season
Published by Concordia University, Nebraska 4 years ago on Fri, Apr 12, 2019 12:22 PM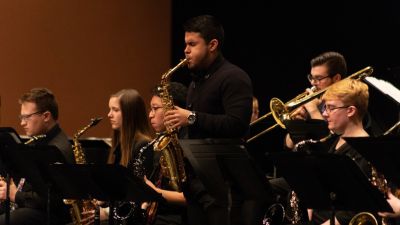 Gabriel Jofre solos with the rest of the Concordia University, Nebraska's Jazz Ensemble.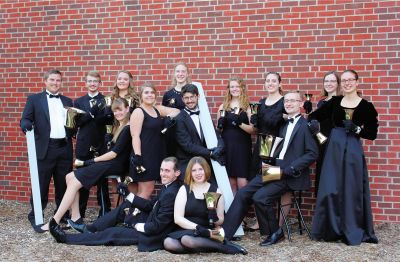 Concordia University, Nebraska's Spring Jazzfest will take place at 7 p.m. Friday, April 26, at Hillcrest Evangelical Free Church in Seward.
The Concordia Jazz Ensemble will perform big band charts from the 1930s and 40s, including "In the Mood" and "A String of Pearls" by the Glenn Miller Orchestra and "Roll 'Em" by Benny Goodman, to name a few. The Vocal Jazz Choir will also be performing a few pieces, including the Toto classic, "Rosanna" and "The Song of Purple Summer" from Steven Sater's and Duncan Sheik's musical Spring Awakening.
"Our attention has been on music that was prevalent and popular during World War II," said Dr. Andrew Schultz, director of the Jazz Ensemble. "This stems from the concert event that we did in February at the Nebraska National Guard Museum as an opportunity to help with their fundraising efforts for a World War II exhibit that's currently being installed. The band has continued their exploration of that music since then and are excited to play these tunes."
The Concordia Handbell Choir and Handbell Choir II will perform at 3 p.m. Sunday, April 28, in the Music Center's Recital Hall on Concordia's campus.
The program will feature a variety of original works for handbell choirs, as well as sacred pieces that focus on Lent and Easter themes. Some of the pieces featured will be "All Creatures of Our God," "The Morning Trumpet," "Beautiful Savior," "Ash Grove," "I Know that My Redeemer Lives" and "I'm Just a Poor Wayfaring Stranger."
"The ringers of Concordia Handbell Choir and Handbell Choir II have had an exciting year of concerts, workshops, a performance at the State Capitol, an appearance on NET's Friday Live Radio Program, as well as serving in several worship and chapel services," said professor Jessica Kite, Handbell Choir director. "2019 marks the 40th anniversary of Concordia's first Handbell Choir, and our spring concert gives us a stage to celebrate the many ways God has blessed Concordia University's Handbell Program. We encourage audience members of all ages to try ringing a bell or chime after the concert!"
Members of the Vocal Jazz Choir include (in alphabetical order by state, city, last name):
Jacob Roggow, senior, Cottage Hills, Ill., bass
Alex Kaldahl, junior, Spencer, Iowa, bass
Austin Theriot, senior, Lake Charles, La., bass
Sarah Mueller, senior, Hemlock, Mich., alto
Brooke Ann Duerr, freshman, Warren, Mich., alto
Zachary Mueller, freshman, Frankenmuth, Minn., tenor
Vanessa Marsh, senior, Concordia, Mo., soprano
Megan Kroeker, sophomore, Henderson, Neb., soprano
Shanda Fujan, sophomore, Oakland, Neb., soprano
Avery Kesar, junior, Omaha, Neb., bass
Christian Watters, sophomore, Panama, Neb., tenor
Noah Freeman, sophomore, Bend, Ore., tenor
Nicholle Harstad, freshman, Norfolk, Neb., alto
Members of the Jazz Ensemble include:
David Krueger, senior, Aurora, Colo., tenor saxophone
Gabriel Jofre, junior, Sterling, Colo., alto saxophone
Valery Rostek, junior, Norton, Kan., tenor saxophone
Matthew Goltl, junior, Wichita, Kan., percussion
Jonathan Grant, senior, Waterloo, Ill., trumpet
Bethany Zeckzer, freshman, New Haven, Ind., baritone saxophone
Joshua Smith, junior, Earlham, Iowa, piano
Zachary Mueller, freshman, Frankenmuth, Mich., trombone and bass
Sarah Armbrust, freshman, Ballwin, Mo., percussion
Rebekah Henschen, freshman, Bancroft, Neb., trombone
Jacob Mikkelson, junior, Bellevue, Neb., keyboard and bass
Lukas Sollberger, sophomore, Louisville, Neb., trumpet
Thomas Johnson, senior, Omaha, Neb., alto saxophone and clarinet
Rose Nigh, freshman, Omaha, Neb., tenor saxophone
Lydia Jeppesen, senior, Pleasant Dale, Neb., trumpet
Dalton Berry, sophomore, Seward, Neb., trumpet
Nolan Homp, sophomore, Seward, Neb., trombone
Shiloh Richters, sophomore, Utica, Neb., trumpet
Erik Fuerniss, freshman, Delmont, S.D., trombone
Sarah Benz, sophomore, Campbellsport, Wis., alto saxophone
Members of the Concordia Handbell Choir and Handbell Choir II include:
Sophie Thorsen, senior, Huntsville, Ala., Handbell Choir II
Breann Huber, junior, Arvada, Colo., Handbell Choir
Erin Johnson, sophomore, Brighton, Colo., Handbell Choir II
Joanna Sherrill, freshman, Lakewood, Colo., Handbell Choir II
Kylee Taylor, freshman, Westminster, Colo., Handbell Choir II
Jacob Roggow, senior, Cottage Hills, Ill., Handbell Choir
Bethany Zeckzer, freshman, New Haven, Ind., Handbell Choir
Whitney Pottschmidt, junior, Seymour, Ind., Handbell Choir
Nathan Leonard, freshman, Topeka, Kan., Handbell Choir II
Nathan Johnson, freshman, Vicksburg, Mich., Handbell Choir II
Whitney Borchardt, senior, Henning, Minn., Handbell Choir II
Parker Esterberg, freshman, Independence, Minn., Handbell Choir II
Charlotte Lines, sophomore, Marshall, Mo., Handbell Choir
Linnea Buchholz, sophomore, St. Charles, Mo., Handbell Choir II
Emily Thies, sophomore, St. Louis, Mo., Handbell Choir
Allison Mackie, senior, Columbus, Neb., Handbell Choir
Zachary Staehr, sophomore, Grand Island, Neb., Handbell Choir
Emily Wiese, freshman, Holdrege, Neb., Handbell Choir II
Aaron Ferguson, junior, Hyannis, Neb., Handbell Choir II
Stephanie Barry, junior, Omaha, Neb., Handbell Choir
Lydia Jeppesen, senior, Pleasant Dale, Neb., Handbell Choir
Jessica Berg, freshman, Brandon, S.D., Handbell Choir II
Timothy Rasch, senior, Denton, Texas, Handbell Choir
Melinda Buhler, senior, Fort Worth, Texas, Handbell Choir II
Rachel Dorn, senior, Houston, Texas, Handbell Choir
Cristina Sanchez, sophomore, La Grange, Texas, Handbell Choir II
Aaron Jackson, sophomore, Palestine, Texas, Handbell Choir
Victoria Cameron, junior, Kent, Wash., Handbell Choir