Speech team's season kicks off with virtual events
Published by Concordia University, Nebraska 2 years ago on Thu, Oct 8, 2020 11:57 AM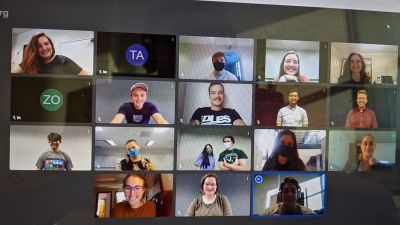 Concordia's speech team holds practice online Oct. 7 due to public health safety measures.
The Concordia speech team has kicked off its season with two virtual tournaments and one bid to the American Forensics Association National Speech Tournament.
Angelina Stinson, a sophomore from Cheyenne, Wyoming, placed second in dramatic interpretation at the Crimson Classic, hosted by the University of Alabama – the team's second tournament that ended Oct. 3. The second-place finish earned Stinson one of two bids needed to compete into the national competition that is typically held in April.
"It felt great to get an early season bid," Stinson said. "It was quite different from my experiences last year, but I'm excited for what is yet to come."
Jacob Garrison, a senior from Malcolm, also placed fifth in dramatic interpretation at the Crimson Classic. Freshman Alex Vieselmeyer, from Amherst, Colorado, was the top novice in impromptu and Tristin Kinderknecht, a freshman from Salina, Kansas, was top novice in extemporaneous.
The team also participated in the Western Kentucky University (WKU) tournament that ended Sept. 27. Joe Davis, head speech team coach, said both tournaments were asynchronous, which meant students had to record their speeches and submit them before each deadline. In the WKU tournament, sophomore Jayson Klaumann from Fairbury finished sixth in after-dinner speaking.
"We were proud to use this virtual opportunity to get our students competing earlier than usual and at two Division 1 schools, where we would face competition we don't normally see until nationals," Davis said.
Concordia speech will host a virtual speech tournament Oct. 10, with schools from Nebraska, Kansas, Minnesota, Wisconsin participating. Davis said there will be Concordia faculty members helping judge the competition, in addition to judges from across the country – one of the benefits of hosting a virtual event, he said.