Speech team shines at 2021 Nebraska state tournament
Published by Logan Tuttle 1 year ago on Mon, Feb 22, 2021 8:24 AM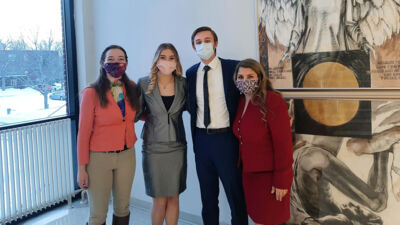 Concordia speech team members reaching the finals at the Nebraska Intercollegiate Forensics Association tournament Feb. 13 were, from left: Malia Ebel, Sabrina Reed, Jacob Garrison and Alia Hurst.
The Concordia University speech team entered the Nebraska Intercollegiate Forensics Association (NIFA) tournament Feb. 13 with the highest participation in school history with 24 students competing in 41 events.
Alia Hurst, a junior from Fairmont, Nebraska, took home Concordia's first state championship in more than 20 years, placing first in Program Oral Interpretation. The NIFA field included the University of Nebraska-Lincoln, University of Nebraska-Omaha, University of Nebraska-Kearney, Hastings College, Doane University and Midland University.
"It felt unreal," Hurst said. "Breaking in to the top-six for finals at NIFA is a challenge by itself, but placing first overall against my amazing and polished competitors is an incredible achievement. As our team grows every season and the number of events increase, so does the level of our competitive success in the final rounds. I feel honored to be able to serve as the first state champion in over 20 years and I cannot wait to continue that legacy next season in my senior year."
Malia Ebel, a senior from Billings, Montana, reached the finals in four events, placing second in Impromptu, fourth in After Dinner Speaking and sixth in both Informative and Extemporaneous.
"It felt great to final in all four," Ebel said. "I've been working really hard over the past four years and this feels like a good way to end my experience with NIFA. The way that speech is structured makes it hard to feel like you're making progress sometimes, and it's these sorts of peek moments that help to show how far you've come."
Also reaching the finals at NIFA was Jacob Garrison, a senior from Malcolm, Nebraska, who finished fourth in Dramatic Interpretation; and Sabrina Reed, a sophomore from Crete, Nebraska, earned sixth in poetry.
The team's strong showing at the state tournament, in numbers and finishes, helps demonstrate the improvement the team has experienced over the last few years.
"After being one of the smallest teams at NIFA only a few years ago, it's awesome to bring so many of our teammates and really show what we're capable of," Ebel said.
Before the team competes virtually in the American Forensic Association National Speech Tournament (AFA-NST) in April, they will compete in a mix of synchronous and asynchronous tournaments hosted by Southeastern Arkansas, Hastings College, Ball State and South Dakota University.