Speech team members place in two tournaments
Published by Concordia University, Nebraska 9 years ago on Fri, Feb 10, 2012 12:46 PM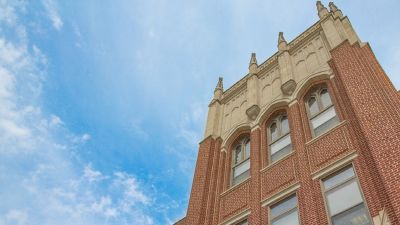 Two members of Concordia's speech and debate team placed in the final round of the Gorlock Gala tournament held at Webster University in St. Louis, Missouri, Jan. 26-29. Senior Heidi Niedfeldt of Stella, Neb., and sophomore Taylor Baumeister of Ironwood, Mich., both placed in the top six at the tournament.
Niedfeldt earned sixth place in the Program of Oral Interpretation category. This category combines the reading of several short, theme-related pieces of different types of writing including poetry, prose and drama.
Baumeister placed fifth in Dramatic Prose, a type of speaking that addresses a serious topic in prose form.
The team was also involved in the annual Sleet and Snow Swing tournament held Jan. 13-15 on the Concordia campus. Eleven university teams from Minnesota, Nebraska, Kansas and Oklahoma participated.
Concordia team members competed in both individual and group events, and they also helped run the meet.
"It's always fun to compete one day and help run the tournament the next day," said Heather Niedfeldt, also of Stella, Neb. "It gives me experience in both aspects of speech—competing and helping in the tab room."
Junior Christopher Schneider, Omaha, Neb., was a semifinalist in Lincoln-Douglas Debate.