Speech team finishes 2021 season with improved national ranking
Published by Logan Tuttle 2 years ago on Tue, Apr 13, 2021 9:23 AM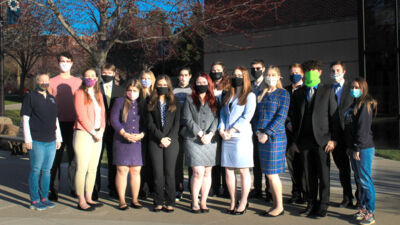 Members of the Concordia speech team who participated in the 2021 American Forensics Association National Speech Tournament April 2-5 are, from left: (back row) Zeb Uden, Jayson Klaumann, Abby Van Velson, Joe Davis, director of forensics, Daisy Cody, Nathan Leonard, Michael Grundstrom and Jacob Garrison and (front row) Dr. Erica Lamm, assistant coach, Malia Ebel, Alia Hurst, Gwen Gaunt, Marlaena Sucha, Angelina Stinson, Sabrina Reed, Tristin Kinderknecht and Ashley Butler.
The Concordia University, Nebraska speech team moved up in the national rankings to No. 22—up one spot from its No. 23 finish in 2019—after competing virtually in the American Forensics Association National Speech Tournament (AFA-NST) April 2-5.
Although the team did not have any students advance to the quarterfinals, it was one of 16 schools to score points in 10 or more events. Malia Ebel, a senior from Billings, Montana, finished 26th in Impromptu, while Alia Hurst, a junior from Fairmont, Nebraska and Jacob Garrison, a senior from Malcolm, Nebraska, finished 26th in Duo Interpretation.
"Almost every team member at nationals contributed to our [team] sweepstakes points," Davis said. "That was a nice reflection on our team's efforts to expand to all events and to maintain a diverse competitive portfolio."
Out of 78 schools competing—ranging from NAIA to NCAA Division I including Western Kentucky University, Bradley University, the University of Alabama, George Mason University, University of Nebraska-Lincoln, Hastings College, Seton Hall University, University of Nebraska-Omaha and more—Concordia finished No. 22 in the country despite the tournament having an increased field from 2019.
With 14 students qualified in 30 events, Concordia had its largest representation to date, Davis said. In 2018, the team's first AFA tournament, three students were qualified in four events.
"Sometimes it feels like because of where we're from, we categorize ourselves as a small-school team," Davis said, "but that's not the cause, because we have so much participation. To have 30 entries at the national tournament is substantial, and from here on out we're playing the big entry game with the big schools."
As Ebel looks back on her time on the speech team, she said she's grateful for all the people she's met and the experience she's had.
"Competing in speech and debate in junior high, high school and college was probably the thing that has influenced me the most over the years," she said. "I want to thank God for introducing me to everyone whose lives and mine touched briefly for a moment, even if it was just a few minutes in one round."
Angelina Stinson, a sophomore from Cheyenne, Wyoming, said the team can use this AFA experience to build momentum going into the next season.
"As frustrating as it is being one of the 'next few in', we have the ability to take the things that we do and love and do them to the best of our ability," she said. "That is a feat in itself. The time that we took this weekend to sit with each other and support our team throughout rounds was a valuable experience that nobody can take away. It's going to be an experience that I am never going to forget."
Michael Grundstrom, a junior from Rapid City, South Dakota, said the tournament was a great opportunity to see the best talent across the country.
"The tournament was a celebration of the hard work that all competitors, coaches and many others put forth," he said. "The team did incredible, despite any breaks [into the quarterfinals] and really were remarkable every step of the way."
A week before the team competed at nationals, it competed at the National Christian College Forensics Invitational (NCCFI) virtually March 25 and 28. The team placed second in its division, with seven students competing in 11 events, with seven of those events advancing to the final round.
Garrison placed second in Interpretation of Faith Literature, Tristin Kinderknecht, a freshman from Salina, Kansas, placed second in Novice Impromptu, Stinson placed third in Persuasive Speaking and Kalina Vavra, a freshman from Norfolk, Nebraska, and Thomas Welch, freshman from Jefferson City, Missouri, placed third in Duo Interpretation.
"It was nice to get to have the NCCFI as a preparation tournament for AFA, for people competing in both" Davis said. "It also gives students, who didn't qualify for AFA, experience competing at the national level."
The team will have 11 members competing in a new novice event April 13-17, open to first-year competitors.
"To have 11 novice members competing, that's bigger than most speech teams nationally," he said.
As the season continues wrapping up, Davis is confident the team will be even stronger next year because of the challenges it faced this year.
"I think the environment of this past AFA reignited a spark that was sort of dim from not having in-person tournaments," he said. "This year was challenging for students and coaches alike to keep pushing ourselves when most of it was recording a video, or not having an audience, but the bonding opportunity during the AFA competition was substantial. I think we'll have a unification surrounded by knowing how close we are to breaking into the top 20 and pushing each other."