Speech team ends fall semester with national qualifiers
Published by Logan Tuttle 2 years ago on Mon, Dec 14, 2020 11:37 AM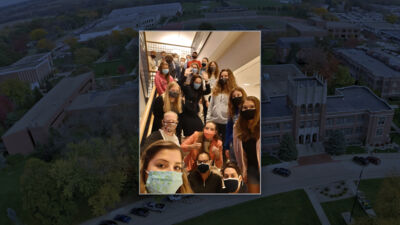 Members of the Concordia speech team pose for a photo during the team's hosted Bulldog Invite Oct. 11.
Concordia's speech team has wrapped up its Fall 2020 semester of competition with seven members qualifying for the American Forensics Association (AFA) National Speech Tournament.
"Our first semester's results indicate our team's capacity for growing competitively and that we're continuing to rise," Joe Davis, director of forensics, said.
Over the semester, the team has turned in multiple top-three finishes in several tournaments, including placing first as a team out of 29 schools at the Southeast Arkansas College Sharknado Tournament on Nov. 21.
Malia Ebel, a senior from Billings, Montana, has qualified for the AFA national tournament, which will be held virtually in the first week of April, with a team-leading four events—Informative, After Dinner Speaking, Impromptu and Extemporaneous.
"Malia is our second student ever to qualify to nationals in four events and she's the first to accomplish that feat in the first semester alone," Davis said. "She is a team captain for both Public Address and Limited Prep events and is an incredible leader on the team, not only in terms of the competitive bar she sets but also her attitude and willingness to be herself at all times."
Jacob Garrison, a senior from Malcolm has qualified in Dramatic Interpretation. This is Garrison's fourth-straight year Garrison has qualified for the national event. Michael Grundstrom, a senior from Rapid City, South Dakota, has qualified in Extemporaneous.
Alia Hurst, a junior from Fairmont, has qualified for nationals in Prose and Program Oral Interpretation. Jayson Klaumann, a sophomore from Fairbury, qualified in Informative and After Dinner Speaking. Angelina Stinson, a sophomore from Cheyenne, Wyoming, qualified in Dramatic Interpretation and Persuasive. Gwen Gaunt, a freshman from Hastings, has also qualified in Program Oral Interpretation.
"We have several additional students who have made finals in their events and I have no doubt we will not only improve upon the number of events we have qualified to nationals from last year but also increase the number of competitors we take to the national tournament," Davis said.