Speech and Debate has strong start to Spring '22 season
Published by Logan Tuttle 4 months ago on Tue, Feb 8, 2022 8:12 AM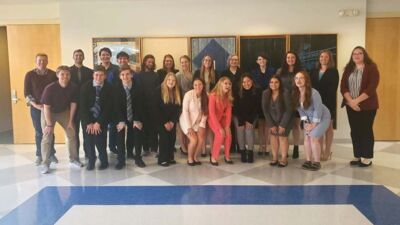 The Concordia speech and debate team has had a busy and productive spring semester, with high team scores and team members qualifying for the national event.
The Concordia speech and debate team has had a busy and productive start to the spring season, with high team scores and multiple students qualifying for the national tournament.
"I am very proud of how hard this team has worked this season," Joe Davis, director of forensics, said. "There's still so much potential for every team member to accomplish an individual goal and contribute to our program's efforts of advocacy."
Two debate pairings competed synchronously in Parliamentary Debate on Feb. 4 at the Border Wars tournament hosted by Kansas Wesleyan. Zipporah Johnson, a junior from Hastings, Nebraska and Thomas Welch, a sophomore from Jefferson City, Missouri; and McKenna McSpadden, a freshman from Parker, Colorado and Aarin Dean, a freshman from Fort Dodge, Iowa.
"This was a great chance to compete on the Midwest circuit and get some real debating experience under our belts," Malia Frerking, forensics graduate assistant and interim director of debate, said.
At the asynchronous Southern Forensics Championship, which ended Jan. 30, Concordia competed against more than 30 schools and placed second in the team sweepstakes. Jayson Klaumann, a senior from Fairbury, Nebraska, won the Informative Speaking and Communication Analysis events, qualifying him to the American Forensics Association (AFA) National Speech Tournament in both events. Brody Schofield, a senior from Sylvan Grove, Kansas was one of four Concordia students in the finals of Dramatic Interpretation and his third-place finish qualified him for the national tournament. Jayzen Armstrong, a senior from Casa Grande, Arizona, competed in his first-ever tournament and placed fourth in Dramatic Interpretation, while Bailey Mooney, a junior from Bee, Nebraska, finished fourth in Poetry and earned her first of two bids needed to qualify for nationals.
Alia Hurst is continuing to make speech team history, becoming the second-ever team member to qualify for the AFA national tournament four years straight after winning the Prose category at the Kansas in Nebraska Synchronous Tournament on Jan. 22.
"I feel honored and accomplished," the senior marketing major from Fairmont, Nebraska, said. "Since we've been performing behind a screen for almost two full seasons now, speech competitions have changed, but as long as I am continuing to perform and sharing my story on any platform, I know I am making a change. I know that I am reminding myself of the love and passion I've cultivated through this activity."
Angelina Stinson, a junior from Cheyenne, Wyoming, placed second in Prose at the Kansas in Nebraska Tournament, qualifying her for the national tournament.
Sabrina Reed, a junior from Crete, Nebraska, qualified for her team-leading third event to nationals during the Talking Like Cats and Dogs asynchronous tournament Jan. 15. Reed will compete in Prose, Poetry and Dramatic Interpretation at nationals.
Next up is the Nebraska Intercollegiate Forensics Association (NIFA) State Tournament on Feb. 12, where Concordia anticipates having the largest team participating.
"I'm very proud to have such a large group representing Concordia at NIFA," Davis said. "Though we don't have as many events as other schools, bringing one of the largest teams in terms of participating members is something we've come to be known for and is a product of our team's diverse participation roles."