Spain study tour offers architecture, art and culture
Published by Concordia University, Nebraska 7 years ago on Fri, May 29, 2015 11:03 AM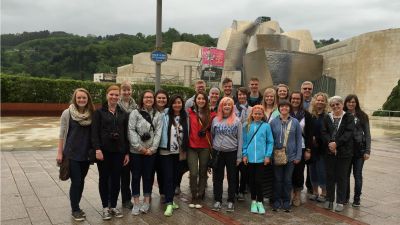 The Guggenheim Museum Bilbao was a highlight for Concordia students and professors completing a study tour in Spain in May 2015. Photo taken by Professor Lynn Soloway. Pictured (l-r): Sarah Bowe, Emma Dannehl, Hayley Koeritz, Laura Sattler, Katie Overman, Alejandra Hallmark, Brianne Hallmark, Micah Witt, Danielle Harstad, Hayli Frosheiser, Austin Romine, Jalyn Woollen, Annie Sanchez, Mitchell Volk, Jillian Janousek, Amber Deepe, Kristen Holder, Anna McDaniel, Professor Bruce Creed, Professor Laurie ZumHofe, Stacy Creed, Jennifer Bose.
Concordia University, Nebraska students traveled throughout Spain on an art and communication study tour from May 12–24. The tour was directed by Professor of Art Lynn Soloway and Professor of Communication Bruce Creed.
"Travel as an educational endeavor is one of the most important events that every student, young or old, should experience," said Soloway. "Diverse cultures, sites, sounds, food—everything—can and should inspire, enlighten and broaden anyone's life. Our world is so amazing."
The major stops of the tour featured nearly 20 museums, cathedrals and other art and public sites in Madrid, Barcelona, Bilbao, Figueres and Toledo.
Sites visited in Madrid include the Prado Museum, Thyssen-Bornemisza Museum and Reina Sofia Museum. Barcelona offered the Picasso Museum, Parc Guell, Joan Miro Foundation Museum, The Barcelona Cathedral, Sagrada Familia, Gaudi's Casa Batlló and the MACBA, Museum of Contemporary Art of Barcelona. The group explored the Guggenheim Museum in Bilbao. In Figueres, they visited the Theatre Museum of Salvador Dali and then took a trip to Portlligat where one of Dali's homes is now a site for visitors. In Toledo, the participants visited the main cathedral and the El Greco Museum and experienced a walking tour of the city.
One highlight of the tour for Soloway was the Sagrada Familia, a large Roman Catholic basilica in Barcelona designed by Catalan architect Antoni Gaudí.
"Gaudi's masterpiece is unlike any other cathedral in the world," said Soloway. "It is breathtaking—a never-to-be-forgotten sight."
Soloway and Creed have directed 10 study tours, held every other year. The tours have reached destinations around the world, including the Czech Republic, England, France, Germany, Hungary, Italy, Turkey and, in the United States, New York City and Washington D.C. Previously, Soloway co-directed several study tours with Concordia Professor Emeritus Robert Fiala.
Executing a study tour requires a full year's worth of planning, including meetings with attendees every two weeks during the fall and spring semesters of the trip year to prepare for the journey.
Creed retired from Concordia after the spring 2015 semester, making this his last tour. "We were a great team with the same interest of bringing students to exciting parts of the world that the Lord has created!" said Soloway. "The travelers were able to experience fantastic days filled with art and culture in countries that most of them had never seen before. Hopefully, we have instilled in those travelers the glorious desire to see the world!"
Students on the trip include (alphabetical by state, city, last name):
Anna McDaniel, senior, Cypress, Calif.
Brianna Hallmark, sophomore, Longmont, Colo.
Katie Overman, junior, Stilwell, Kan.
Micah Witt, junior, Faribault, Minn.
Emma Dannehl, freshman, Bertrand, Neb.
Jillian Janousek, senior, Clarkson, Neb.
Amber Deepe, senior, Deshler, Neb.
Kristen Holder, senior, Fort Calhoun, Neb.
Mitchell Volk, junior, Lincoln, Neb.
Danielle Harstad, junior, Norfolk, Neb.
Sarah Bowe, senior, Omaha, Neb.
Hayli Frosheiser, freshman, Seward, Neb.
Jalyn Woollen, senior, Wilcox, Neb.
Jennifer Bose, junior, Clinton, Okla.
Austin Romine, junior, Fort Worth, Texas
Laura Sattler, junior, East Troy, Wis.
Non-student travelers include:
Kelli Claassen, alumna
Bruce Creed, Concordia professor
Stacy Creed, friend of Concordia
Alejandra Hallmark, friend of Concordia
Hayley Koeritz, alumna
Annie Sanchez, friend of Concordia
Lynn Soloway, Concordia professor
Laurie ZumHofe, Concordia professor