Six Concordia University students take part in Belize study tour
Published by Concordia University, Nebraska 6 years ago on Fri, Mar 18, 2016 12:05 PM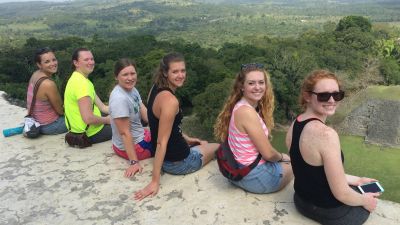 Six Concordia students traveled to Belize for a study tour in March 2016. Pictured (l to r) are Claire White, Sam McConnell, Anna Beune, Megan Burma, Lisa Pope and Lexi Radic.
Six students, two faculty members and one alumnus from Concordia University, Nebraska participated in a study tour to Belize March 4–12, 2016. The trip was led by Assistant Biology Professor Jennifer Fruend, Professor Emeritus Joseph Gubanyi and one Concordia alumnus, Robert Brewer.
"God gave us a truly amazing planet to shepherd, and these students were able to see the incredible diversity and ecological niche-filling in an ocean environment so vast, we can only begin to scratch the surface of understanding," said Fruend.
The participants began the study tour by visiting the planet's second largest barrier reef, which borders Tobacco Caye Marine Station. While there, students were able to snorkel in patch reefs, along the barrier reef, throughout an atoll and in mangrove lagoons. Students also participated in night snorkeling to view nocturnal organisms and a rare visit the Glover's Reef Atoll system.
The study continued on the mainland to view Belizean culture and visit Xunantunich, a Mayan archaeological site. The group also went hiking, horseback riding and walking through a tropical forest ecolodge.
Students participating in the trip include:
Alexa Radic, senior, Parker, Colo.
Samantha McConnell, senior, Atlantic, Iowa
Anna Beune, sophomore, Dodge, Neb.
Clarisa White, senior, Exeter, Neb.
Lisa Pope, freshman, Lincoln, Neb.
Megan Burma, senior, Platte, S.D.