Sheldon Statewide Exhibition at Marxhausen Gallery
Published by Concordia University, Nebraska 5 years ago on Fri, Dec 15, 2017 11:54 AM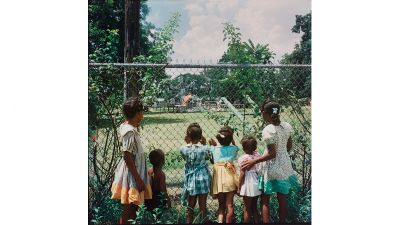 Gordon Parks's Outside Looking In, Mobile, Alabama, 1956 Archival pigment print (2013)
Concordia University, Nebraska's Marxhausen Gallery of Art will host "Meet Your Match: Sheldon Statewide Exhibition," which will be available for viewing at the Marxhausen Gallery of Art on Concordia's campus from Monday, Jan. 8 through Monday, Feb. 5.
An opening reception will be held from 1-4 p.m., Sunday, Jan. 17 with a gallery talk at 2 p.m. in the Marxhausen Gallery of Art.
This thirty-first annual statewide exhibition travels from the Sheldon Museum of Art in Lincoln. This exhibit presents works of art in pairs, some complementary and others opposing. Concordia is one of the seven galleries in the state to display the exhibit on its tour around the state.
"Concordia University is privileged to host the Sheldon Statewide exhibition because it brings to the Seward community part of a world class art collection," said James Bockelman, professor of art and director of the Marxhausen Gallery. "This exhibit is like a conversation where works made at different time periods, different materials and different subject matter are paired together in order to encourage the viewer to see and think more about both pieces. As the Sheldon website states, 'Looking at works of art in pairs prompts the act of comparing and contrasting.'"
Among the works presented are paintings, prints, photographs and sculptures by artists like Ansel Adams, Elizabeth Frink, Gordon Parks, Robert Rauschenberg and Andy Warhol.
Since 2000, the Marxhausen Gallery of Art has hosted over thirty artists and art's professionals. Through a diverse mix of exhibitions, performances, screenings, and conversations, the visiting artist program provides a public forum for the presentation and contemplation of contemporary art, curatorial practice and scholarship. Through discourse, studio critiques, informal discussions and public lectures the program provides students with direct access to arts professionals working across disciplines.
The exhibit is open to the public and free of charge. The Marxhausen Gallery is located in Jesse Hall and is open 11 a.m. to 3 p.m., Monday–Friday and 1 p.m. to 4 p.m., Saturday and Sunday while classes are in session.