Seniors showcase artwork in 2015 capstone gallery show at Concordia
Published by Concordia University, Nebraska 7 years ago on Thu, Apr 9, 2015 9:59 AM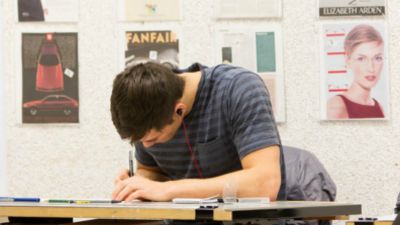 Senior Brandon Ramos prepares his artwork for the Bachelor of Fine Art Senior Thesis exhibition at Concordia.
Eight senior artists will display work in the Bachelor of Fine Art Senior Thesis exhibition at Concordia University, Nebraska. The show opens April 19 in the Marxhausen Gallery of Art. An opening reception is scheduled from 1 to 4 p.m. on Sunday, April 26, with a gallery talk at 2 p.m.
"The show serves as a capstone experience for those students who are earning a BFA in art at Concordia in graphic design, studio art or art education," James Bockelman said. Bockelman serves as a professor of art and curator of the Marxhausen Gallery.
One highlight of the exhibit is an art therapy documentation by Jenelle Hallaert about a seven-day fast and the relationship between losing material, tangible weight and gaining immaterial insight. The show also includes a variety of the seniors' work such as character sketches, computer generated typography and photographs.
The goal of the show is to push the limits of the students' artistic skills and levels of thought. Students must develop a theme and are responsible for planning all aspects of the exhibition, including installation and setup, publicity and the opening reception. They also collaborate with other student artists to create a successful showcase of work.
The artwork will be on display through May 6.
The exhibit is open to the public and free of charge. The Marxhausen Gallery is located in Jesse Hall and is open Monday–Friday from 11 a.m. to 4 p.m. and Saturday and Sunday from 1 p.m. to 4 p.m.
Students participating in the exhibition include (alphabetical order by state, city, last name):
Grace Hollenbeck, senior, Parker, Colo.
Brandon Ramos, senior, Wailukum, Hawaii
Luke Wohlgemuth, senior, Alton, Iowa
Leah Eklof, senior, Cokato, Minn.
Alison Schuerman, senior, Crete, Neb.
Alyssa McAfee, senior, Dannebrog, Neb.
Dane Stahr, senior, Lincoln, Neb.
Jenelle Hallaert, senior, Omaha, Neb.