"Seeing Is Believing" exhibit opens season at Marxhausen Gallery
Published by Concordia University, Nebraska 12 years ago on Mon, Aug 9, 2010 3:17 PM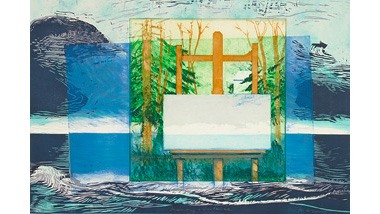 "Seeing Is Believing: Selections from the Permanent Collection" was the opening show for the 2010-11 school year at the Marxhausen Gallery of Art at Concordia. The exhibit opened Monday, Aug. 23. A reception took place on Sunday, Sept. 5, from 1 to 4 p.m. in the gallery with a talk by show curator and Concordia Associate Professor James Bockelman at 2 p.m. in the Thom Leadership Education Center auditorium.
Pieces selected for the show either involved engaging the viewer or, as Bockelman explains, "The content of the work itself begs to be seen, or more specifically, reflected upon. The viewer enters a relationship with the work and believes in it - seeing is believing."
The exhibit contained primarily prints and multiples such as etchings and silk screens. Several of the items had not been shown recently, including an icon and a woodcut of Martin Luther by Hans Baldung Grien originally printed in 1521. "One of the ideas I would like visitors to realize is the difference between art made for a didactic, illustrative purpose and art that is meant to be contemplated," said Bockelman.
The exhibit ran through Friday, Oct.1. The Marxhausen Gallery is the on-campus exhibition space for Concordia and hosts a variety of exhibitions each year. It is located in Jesse Hall and is open Monday-Friday 11 a.m.-4 p.m. and Saturday and Sunday 1-4 p.m.