Science students receive honors at awards banquet
Published by Concordia University, Nebraska 6 years ago on Fri, Apr 29, 2016 10:44 AM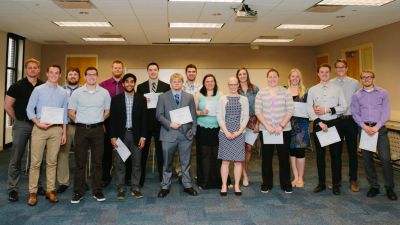 Concordia's graduating seniors studying the sciences include (l to r): Thomas Hudnall, Trevor Bresson, Michael Grau, Mark Anderson, Benjamin Schulteis, Marcelino Varona, Trevor Miller, Austin Starkey, Ryan Carsten, Kendra Vanness, Sydney Olson, Rebecca Mueller, Kattie Cleveland, Nicole Perry, Mark Campbell, Justin Lawrie, Gideon Soenksen.
The Department of Natural Sciences at Concordia University, Nebraska recognized outstanding work and contributions to the science department at its 15th annual awards banquet on Wednesday, April 20, 2016.
"The Science Banquet is one of the highlights of the year in the department," said Natural Science Department Chair Dr. Robert Hermann. "This is an opportunity to get out of the lab, out of the classroom, to be together as friends and to celebrate the amazing blessings and the fantastic success that God has blessed on our students."
The Natural Sciences Scholarship, funded by current and emeriti faculty, is awarded to outstanding students who will be seniors the following academic year in a natural science program. This year's recipients were Chandler Folkerts, Elizabeth Holle and CJ Muller.
Outstanding lab assistant work and excellence shown in special classes were also recognized during the event.
Students who received awards include (alphabetical by state/country, city, last name):
Justin Lawrie, senior, Winnipeg, Canada, Outstanding Lab Assistant in Biology
Josiah Rensner, freshman, Effingham, Ill., Outstanding Freshman in Chemistry
Mark Anderson, senior, Morton, Ill., Outstanding Lab Assistant in Physics
Christine Bennett, sophomore, Ida Grove, Iowa, Science Careers Support Scholarship
Erin Rowland, freshman, St. Peters, Mo., Science Careers Support Scholarship
Samantha Boardmann, junior, Henderson, Neb., Golden Scalpel Award/Outstanding Student in Gross Anatomy
Sydney Olson, senior, Lincoln, Neb., Outstanding Lab Assistant in Biology
Michael Waldron, sophomore, Lincoln, Neb., Outstanding Freshman in Chemistry
Ryan Carsten, senior, Milford, Neb., Outstanding Lab Assistant in Chemistry
Chandler Folkerts, junior, Milford, Neb., Natural Science Scholarship
CJ Muller, senior, Omaha, Neb., Natural Science Scholarship
Elizabeth Holle, senior, Stewartstown, Pa., Awesome Terrific Person Award/Outstanding Student in Biochemistry and the Natural Science Scholarship