Science students receive 2021 department honors
Published by Logan Tuttle 5 months ago on Thu, Apr 29, 2021 10:34 AM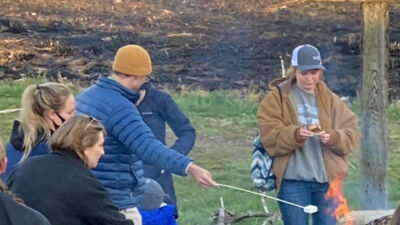 Concordia's Department of Natural and Computer Science held its annual awards ceremony at the outdoor chapel, complete with s'mores.
Concordia's Department of Natural and Computer Science recognized students for their exceptional work and contributions to the department during its annual awards celebration on April 21.
"The annual awards celebration is always a highlight for the department," Dr. Robert Hermann, department chair, said. "Faculty and students spend so much time together working to understand God's creation and we form really strong relationships. The year-end celebration is a final chance to get together as a group to relax, talk science and just enjoy each other's company."
Last year's ceremony was held virtually due to the pandemic, and after a challenging year, Hermann said having the ceremony in person felt like the beginning of a return to normalcy.
"This year especially, after spending so much time distanced from one another, and after not being able to get together like this last year, the time together felt special," he said. "This was a chance to strengthen our community, even as we celebrated the graduates who will be leaving us soon."
Emily Rasmussen, a senior from Mount Pleasant, Wisconsin earning a biology and chemistry major and a physics minor, received the Dr. Gilbert Daenzer Natural Sciences Scholarship Award, the department's top honor awarded to a senior or junior science student who most exemplifies the late Daenzer's passion for service during his 30-year Concordia tenure.
The Natural Sciences Scholarship, funded by current and emeriti faculty, was awarded to Carter Kent, a senior from Crete, Nebraska majoring in biology and a minor in chemistry and Kenna Miller, a senior chemistry major from York, Nebraska, as outstanding returning seniors in a natural science program.
Elizabeth Bergdolt, a senior from Grand Island, Nebraska majoring in biology, received the Golden Scalpel award as the top student in Gross Anatomy, Concordia's human cadaver dissection course.
The department also recognized outstanding lab assistants for the year. Bergdolt was named outstanding lab assistant for biology and chemistry. Kyle Wilshusen, a senior from Omaha, Nebraska, also received outstanding biology lab assistant honors and Abigail Lyons, a senior from Dwight, Nebraska, received outstanding chemistry lab assistant honors. Matthew Preuss, a senior from Seward, Nebraska, was named outstanding physics lab assistant.
Ami Pritchett, a freshman from Denver, Colorado, was recognized as the outstanding first-year agricultural science major. This was the second year the department presented the award.
Mollie Grosshans, from Waverly, Nebraska, and Avery Lewis, from Seward, Nebraska, each received the outstanding freshman in chemistry award, recognizing freshmen who show early promise in general chemistry.