Science department honors students during online banquet
Published by Concordia University, Nebraska 8 months ago on Thu, May 14, 2020 2:43 PM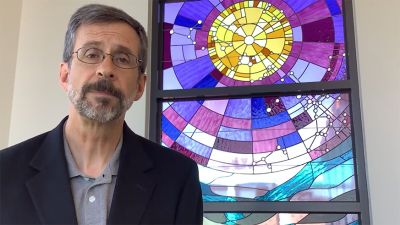 Concordia's Department of Natural and Computer Sciences recognized students for their exceptional work and contributions to the department during its 19th annual awards banquet on May 6. This year's banquet was held virtually through Facebook due to the coronavirus pandemic.
"To all the students in agricultural science, biology, computer science, environmental science, physics and all of the pre-professional programs, thank you for being a part of our department," Dr. Robert Hermann, chair of the natural and computer sciences department, said during the video. "You are what makes us a department. Although you cannot be with us today, you are with us every day in our thoughts, our hearts and our prayers.
"To our graduating seniors and those going on from Concordia, thank you for sharing the past few years of your lives with us. Thank you for letting us get to know you, work with you and watch you grow. We hate to see you leave, but we are so happy to see you going out into the world. We know each and every one of you will have great success."
Elizabeth Bergdolt received the Dr. Gilbert Daenzer Natural Sciences Scholarship Award, the department's top honor awarded to a senior or junior science student who most exemplifies the late Daenzer's passion for service during his 30-year Concordia tenure.
"Elizabeth is either the top, or one of the top students in each of her classes," Hermann said during the video. "She is also a tutor and lab assistant for the department. Whenever there's a project needing to be done, Elizabeth is there to help in any way she can."
Harlie Himmelberg received the Golden Scalpel award as the top student in Gross Anatomy, Concordia's human cadaver dissection course.
The Natural Sciences Scholarship, funded by current and emeriti faculty, was awarded to Abby Lyons and Dylan Paap as outstanding returning seniors in a natural science program.
Each year, the department recognizes outstanding graduates for their superior performances in their respective fields. This year's outstanding graduates were Alison Coomer in biology, Colby Duvel in chemistry and Riley Tegtmeier in physics.
The department also recognized outstanding lab assistants for the year. Students recognized included David Carrasco and Lindee Schultz in biology, Patricia Tripp and Duvel in chemistry and Paap in physics.
Olivia Leising was recognized as the outstanding first-year agricultural science major. This was the first year the department presented the award.
Katie Anderson and Madalyn Woodburn each received the outstanding freshman in chemistry award, recognizing freshmen who show early promise in general chemistry.
Science students who earned awards and scholarships (listed alphabetically) include:
Elizabeth Bergdolt, senior, Grand Island, Neb., Dr. Gilbert Daenzer Natural Sciences Scholarship Award
David Carrasco, senior, Sammamish, Wash., Outstanding Biology Lab Assistant
Alison Coomer, senior, Troy, Mo., Outstanding Graduate in Biology
Colby Duvel, senior, Springfield, Neb., Outstanding Graduate in Chemistry and Outstanding Chemistry Lab Assistant
Harlie Himmelberg, senior, Lawrence, Neb., Golden Scalpel Award
Olivia Leising, freshman, Arapahoe, Neb., Outstanding First-Year Agricultural Science Major
Abby Lyons, senior, Dwight, Neb., Natural Sciences Scholarship
Dylan Paap, senior, Lincoln, Neb., Natural Sciences Scholarship and Outstanding Physics Lab Assistant
Lindee Schultz, senior, Hastings, Neb., Outstanding Biology Lab Assistant
Riley Tegtmeier, senior, Davenport, Neb., Outstanding Graduate in Physics
Patricia Tripp, senior, Simi Valley, Calif., Outstanding Chemistry Lab Assistant