Science department honors Concordia students at 2017 annual awards banquet
Published by Concordia University, Nebraska 5 years ago on Thu, Apr 27, 2017 11:11 AM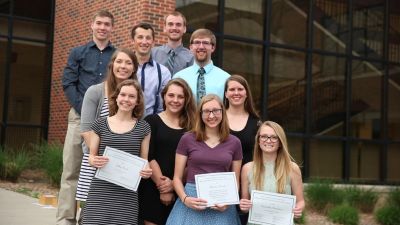 Bottom row (l-r): Elizabeth Holle, Christine Bennett, Samantha Boardman; Second row: Colby Duvel, Tricia Tripp, and Rachel Krome; Back row: Philip Yox, Christof Muller, Christian Egger, Mason Koeritz
The Department of Natural Sciences at Concordia University, Nebraska, recognized exceptional work and contribution to the science department at its 16th annual awards banquet on Wednesday, April 19, 2017. Graduating seniors were also honored at the banquet. Brad Schick, Concordia alumnus from 2014 who recently completed a Master's degree in Agronomy from the University of Nebraska-Lincoln, shared some remarks on his experiences at Concordia and his research at UNL.
"We are blessed to have outstanding students in our science programs at Concordia," said Robert Hermann, Chair of the Department of Natural Sciences. "This banquet gives us a chance for all our science students and faculty to come together to celebrate the end of a year of hard work, to congratulate the students who are graduating, and to recognize outstanding achievements with the awards and scholarships that the department offers."
The Natural Sciences Scholarship, funded by current and emeriti faculty, is awarded to outstanding returning seniors in a natural science program. This year's recipients were Mason Koeritz, Clara Rich, and Ann Spilker.
Elizabeth Holle received the Golden Scalpel award as the top student in Gross Anatomy, Concordia's human cadaver dissection course.
Christine Bennett received the "ATP" award for outstanding performance in biochemistry.
Colby Duvel was recognized as the outstanding freshman in chemistry for her superior first-year performances in chemistry.
The department also recognized outstanding lab assistants for the year. These included Samantha Boardman and Christof Muller in biology, Elizabeth Holle and Philip Yox in chemistry, and Christian Egger in physics.
Students who received awards or graduation recognition include:
Mason Koeritz, senior, Northrop, Minn., was a recipient of the Natural Sciences scholarship
Christian Egger, senior, Galva, Iowa, received the award for outstanding lab assistant in physics
Christine Bennett, junior, Ida Grove, Iowa, received the award for outstanding student in biochemistry
Ann Spilker, junior, Ashland, Neb., was a recipient of the Natural Sciences scholarship
Clara Rich, senior, Lincoln, Neb., was a recipient of the Natural Sciences scholarship
Christof Muller, senior, Omaha, Neb., received the award for outstanding lab assistant in biology
Samantha Boardman, senior, Seward, Neb., received the award for outstanding lab assistant in biology
Colby Duvel, freshman, Springfield, Neb., received the award for outstanding freshman in chemistry
Elizabeth Holle, senior, Stewartstown, Pa., received the Golden Scalpel Award and the award for outstanding lab assistant in chemistry
Philip Yox, senior, Mount Pleasant, Texas, received the award for outstanding lab assistant in chemistry