Saturday art classes for elementary students held by Concordia art department
Published by Concordia University, Nebraska 6 years ago on Fri, Oct 7, 2016 9:31 AM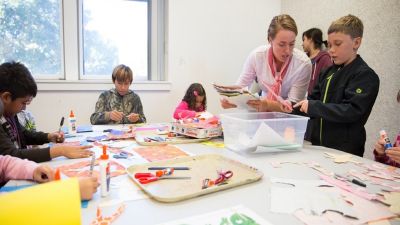 Elementary students enhance their art experiences by learning from Concordia education majors during Saturday art sessions on campus throughout the fall.
Elementary students are invited to attend art sessions taught by Concordia University, Nebraska's art department. They will be held on Saturday mornings from 9 a.m. to 11 a.m. in the Brommer Art Center, room 123, on Concordia's campus in Seward.
The sessions, available to pre-kindergarten through sixth grade students, will be taught by Concordia students majoring in elementary education and overseen by art department faculty. Art making combined with art history, aesthetics and constructive criticism will be taught.
"These Saturday morning sessions allow Concordia students the opportunity to apply what they have learned in their Methods of Art Education course and design, perhaps, their first discipline-based art lesson plan," says art department chair Don Robson. "I am confident our students will provide a wonderful experience for the children while also developing their teaching skills."
There are 25 seats available per session. Each student is required to pay a fee of $5 for registration and supplies.
Register online at go.cune.edu/saturdayart. For questions, contact Kay Rohren at 402-643-7202 or email kay.rohen@cune.edu.
Session Calendar:
Pre-Kindergarten: Oct. 22
Kindergarten: Oct. 29
1st and 2nd: Nov. 5
3rd and 4th: Nov. 12
5th and 6th: Dec. 3