Robson's work part of exhibit at Minot State
Published by Concordia University, Nebraska 11 years ago on Fri, Jan 27, 2012 1:13 PM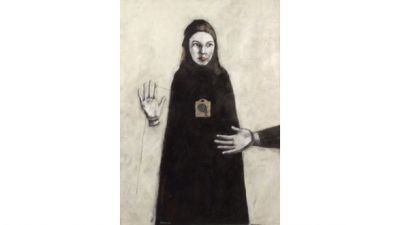 Concordia's Associate Professor of Art Don Robson says the pieces in his Matriarch Series reflect issues that "we're often more acutely sensitive to and stay with us for our lifetime."
Concordia's Associate Professor of Art Don Robson currently has two works from his Matriarch Series on display in an exhibit in the Hartnett Hall Gallery on the campus of Minot State University. The Northwest Art Center's "Americas 2012: Paperworks" exhibition is an annual international juried art show.
This year 180 artists from around the country and around the world submitted 552 works for consideration. Robson's works were among 56 selected for the exhibition by juror Michael Barnes.
Robson explained that both of the pieces explore themes of desperation, loss, longing and acceptance. "The Matriarch Series became a way for me to find peace with the plight and condition of people I know," Robson said. "I've always been drawn to the challenging issues inherent to relationships. I believe that's where the strongest and most confrontational images are born."
"Americas 2012: Paperworks" will be on display through Wednesday, Feb. 22.