Robson receives Outstanding Teaching Award
Published by Concordia University, Nebraska 8 years ago on Sat, May 10, 2014 9:26 AM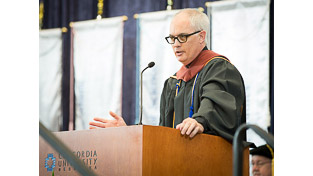 Don Robson, 2014 Outstanding Teaching Award recipient
Don Robson, chair of the art department at Concordia, was presented with the 2014 Outstanding Teaching Award at the university's commencement ceremony on May 10.
The honor is given to a full-time faculty member who has been nominated by students and selected by a committee of students and faculty members who have previously received the award. The recipient's name is not revealed until it is called during commencement.
"I challenge my students, in one class especially, to find out if there's anything that is shocking to them anymore, and this is truly shocking to me," said Robson as he accepted the award. "The only reason I'm up here and at this university is because of the students. … I feel like I'm at home. I'm blessed to be here, and I'm proud of the students."
Robson received a Bachelor of Arts degree from Missouri Western State University, a Master of Fine Arts degree from Wichita State University and a Master of Teaching degree from the University of Central Missouri.
Robson began teaching at Concordia Nebraska in the fall of 2009. He has taught a variety of art courses including drawing, advanced collage and mixed media, advanced painting and methods of art education.
Robson's previous professional experience includes teaching at Lutheran High School of Kansas City and the University of Central Missouri with an emphasis in drawing, painting, design and art theory and criticism.
Robson is an accomplished and published artist who has exhibited work in juried competitions, solo and group shows and has work in galleries, museums and private collections across the country.