Rev. Russ Sommerfeld to lead Concordia's church engagement efforts
Published by Logan Tuttle 1 year ago on Tue, Aug 10, 2021 8:43 AM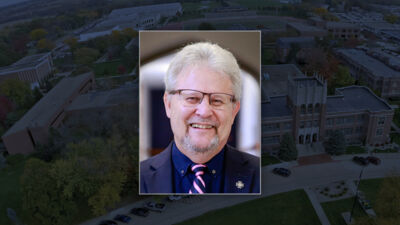 On Aug. 10, Dr. Bernard Bull, Concordia's incoming president, announced Rev. Russ Sommerfeld has been named assistant to the president for church engagement.
After faithfully serving as Concordia's interim president since Jan. 1, 2020, Rev. Russ Sommerfeld has been named assistant to the president for church engagement, where he will lead the university's church engagement efforts throughout The Lutheran Church—Missouri Synod and the Church at large.
As part of his duties, Sommerfeld will engage with the LCMS and the wider Church around critical issues and themes and focus on how Concordia can support the LCMS, while simultaneously cultivating, soliciting and stewarding congregations in direct support of Concordia. Dr. Bernard Bull, Concordia incoming president, announced the move to the campus community on Aug. 10. Sommerfeld was the LCMS Nebraska District president 2003-2015 before serving as a theology faculty member at Concordia.
"Russ has a tremendous depth of knowledge, a vast network of connections and a history of influential leadership within the LCMS," said Bull, who will be installed Aug. 22. "He has served faithfully in multiple capacities, and he has the skills, acumen and trust to begin the important task of setting up what I envision as an Office of Church Engagement here at Concordia that will grow and develop our connections with and service to the Synod in the years to come."
As part of Sommerfeld's role, he will collaborate and receive feedback from the Concordia community, as well as the university's supporters and governance bodies on how the university can partner with the Concordia University System, the LCMS and beyond. He will play a key role as a Concordia representative to the Synod at various LCMS district conventions in 2022 and the LCMS Synodical Convention in 2023.
"I am honored and privileged to continue serving Concordia and the LCMS in this new role," said Sommerfeld. "Ministry began for me with a passion for serving at the congregational level, and this position will allow me to engage closely with our brothers and sisters in Christ as a way to build stronger, more meaningful connections between the university, the LCMS and the Church at large."
Sommerfeld's position is entirely funded during this fiscal year through the existing and ongoing church relations budget. At the end of his two-year appointment, Concordia will conduct a national search for his successor.