Rev. Dr. David Coe receives Outstanding Teaching Award
Published by Concordia University, Nebraska 4 years ago on Sat, May 4, 2019 11:50 AM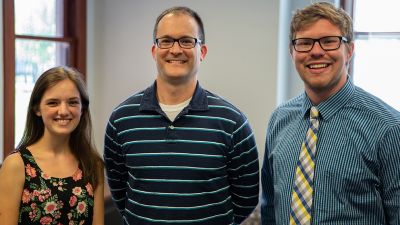 Rev. Dr. David Coe (middle) received the 2019 Outstanding Teaching Award May 2, presented by Vanessa Marsh, left, Concordia student senate president and Sam Moore, right, student senate vice president.
Rev. Dr. David Coe, assistant professor of theology, received the 2019 Outstanding Teaching Award May 2, in advance of Concordia's commencement ceremony.
The honor is given to a full-time faculty member who has been nominated by students. A committee of students, as well as faculty members who have previously received the award, selects the recipient. Typically, the recipient's name is not revealed until it is called during commencement. This year was different, however, as Coe did not attend commencement, as his wife, Joanna, gave birth to their second child on Friday. Vanessa Marsh, student senate president and Sam Moore, vice president, presented Coe with the award May 2.
"Thank you, everyone, for this kind recognition," Coe wrote in a statement that was read by Dr. Tim Preuss, Concordia University provost, at commencement. "I am humbled and grateful to God. I want to thank President Friedrich, Provost Preuss, Dean Royuk, Dr. Holtorf, my department chair, all of my mentors in the theology department and all of my colleagues on the Concordia faculty. Thank you for having me!"
Coe also had a message for the class of 2019, "Dear students, tomorrow, May 5, is the 206thbirthday of 19th-century Danish Lutheran philosopher Søren Kierkegaard. His favorite Bible verse was James 1:17: 'Every good and perfect gift is from above, coming down from the Father of lights, with whom there is no variation or shadow due to change,'" Coe wrote. "Thank you, students, for being God's good and perfect gift to me. God bless you, and our prayers go with you, as you go from here to be God's good and perfect gift to the church and world."
Coe teaches theology, philosophy and biblical languages, in addition to courses for the Luke Scholars Program, Concordia's honors program. Before joining Concordia in 2016, Coe was the associate pastor at Trinity Lutheran Church in Fremont. He received a Bachelor of Arts in 1999 from the University of Georgia, majoring in philosophy and minoring in religion, before receiving a master of divinity in 2006 and a doctor of philosophy in 2011 from Concordia Seminary in St. Louis, Missouri.
Students nominating Coe remarked that he involves the whole class each time he teaches and there is always something interesting to keep the class engaged.
"He is phenomenal in explaining difficult concepts in a way the whole class can understand," one nomination read. "He encourages discussion and also encourages us to think out problems on our own. He's always striving to make classes better and even asked us directly what to do better."
The nominations also said Coe makes difficult material easy to understand through the work of presentation slides, sound effects, and sometimes jokes and acronyms.
"Professor Coe definitely makes the class applicable to one's faith and life," one nomination said. "Most importantly, he consistently centers classes on God and His word."