Rev. Amos Gray shares message of remembrance in honor of MLK
Published by Logan Tuttle 1 year ago on Thu, Jan 20, 2022 1:37 PM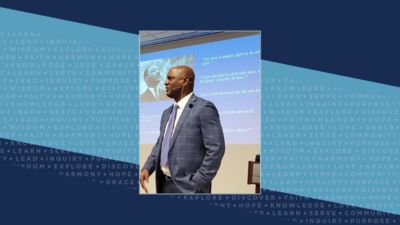 Rev. Amos Gray, founder and CEO of High Impact Movement, presented "Remembering the Stories, A Son Never Forgets," in honor of Martin Luther King Jr. Day on Jan. 18.
On Jan. 18, Concordia welcomed Rev. Amos Gray, founder and CEO of High Impact Movement, an organization focused on the next generation and its family, as he presented "Remembering the Stories, A Son Never Forgets," in honor of Martin Luther King Jr. Day.
Amos Oliver Gray IV was raised in Little Rock Arkansas, by Joanne Tinsley, a single mother of seven children. As a young boy and teenager, Gray faced many challenges in his life: social, physical and racial. Despite all of these challenges, Gray learned that adversity comes in many different forms and how you choose to deal with the hardship will determine success in life.
Throughout Gray's life and service to his community, the church and the next generation, he has found that his lessons through the adversities he has faced have helped him serve others with greater insight and compassion. Gray has impacted their lives with joy, peace, passion, kindness and compassion.
At the beginning of his presentation, Gray shared with the crowd that he wanted to lift up the achievements and the impact King, and others, including Rosa Parks, have had on today's society in a way that connects with young people.
"Around this time of year, we begin to talk about these heroes who have gone forth and done great things for our communities, and for our race and for our whole world," Gray says, "but a lot of times, I get the question, 'who is that?' Sometimes, it gets lost in the context, in the lives of young people. But if we can begin to share stories with them and talk about them about how those stories have helped me and you get to where we are in life, then it begins to connect and have that context that says, 'oh that happened, and that's why I can do what I'm doing now.'"
He led the group in singing "Lift Every Voice and Sing," a hymn with lyrics written by James Weldon Johnson and composed by his brother, J. Rosamond Johnson, which debuted in 1900 for President Abraham Lincoln's birthday. Gray recalled his grandmother always playing it when he visited on the weekends, as he watched her worship the Lord, in good times and in bad. He spoke about a time when he asked her why she played the song all the time, and she told him listening to it is an act of remembrance.
"She said, 'It's a song of a time gone by, that's how we remember that we never ever want to go through the things we had to go through,'" Gray says. "She said, 'I always want you to remember why you are who you are, and where you're going. Part of what we've gone through as a people, son, is your journey and you cannot deny it.'
"I began to really think about what my grandmother, my dad and his mother had taught me. I began to understand part of our journey is to remember our history in such a way that we can stand on it so we can make life better for who we are."

As founder and CEO of High Impact Movement, Gray believes that engaging, equipping, empowering and exposing the next generation to its goals and dreams and teaching them how to attain them will lead to a brighter future for the next generation and even the generation after them.
He was recognized for his work in Hot Springs, Arkansas, nominated for Man of the Year 2015 and again in 2021. Gray's organization, High Impact Movement, was also nominated as Organization of the Year in 2021 by the City of Hot Springs Chamber of Commerce.
Gray holds a degree in practical ministries and has obtained numerous certifications throughout his 30-plus years of service to the church, community and the next generation.
No matter the accomplishments, Gray considers his family the most significant award any man could ever receive. Just as he serves pastors in the community, Gray puts his family first. Gray and Carol, his wife of 24 years, have five children, Ashley, Alexis, Amos V, Joshua and Joel. They also have five grandchildren, Arianna, Gianna (deceased), Camilla, Kaleah and Kalani.
Gray enjoys speaking and empowering those around him; as a Rostered pastor of the Lutheran Church—Missouri Synod, his heart and passion are to see the church grow and become all that God has ordained it to be.